journal

jour·nal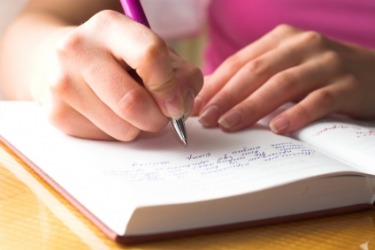 A woman writes in her journal.
noun
The definition of journal is a diary you keep of daily events or of your thoughts or a publication dealing with a specific industry or field.

An example of a journal is a diary in which you write about what happens to you and what you are thinking.
An example of a journal is the New England Journal of Medicine, in which new studies are published that are relevant to doctors and medicine.
---
journal
a daily record of happenings, as a diary
a collection of one's thoughts or observations, written over time as on a particular topic or as a creative exercise

a record of the transactions of a legislature, club, etc.
a daily newspaper: often used in newspaper titles
any newspaper or periodical, as one dealing with scientific or professional matters

Bookkeeping

daybook
a book of original entry, used in the double-entry system, for recording all transactions, in the order in which they occur, with an indication of the special accounts to which they belong

Origin of journal

orig. Scot

Mech.

the part of a rotary axle or shaft that turns in a bearing
Origin of journal
ME, book containing forms of worship for the day hours (Little Hours) from OFr, literally , daily from Classical Latin
diurnalis
from
dies
, day (see deity): journalsense probably via Italian
giornale,
of same origin, originally
---
journal
noun
a. A personal record of occurrences, experiences, and reflections kept on a regular basis; a diary.

b. An official record of daily proceedings, as of a legislative body.

c. Nautical A ship's log.

Accounting

a. A daybook.

b. A book of original entry in a double-entry system, listing all transactions and indicating the accounts to which they belong.

A newspaper.
A periodical presenting articles on a particular subject: a medical journal.
The part of a machine shaft or axle supported by a bearing.
verb
jour·naled,
or
jour·nalled
journaling, journals
verb
intransitive
To write one's observations or thoughts in a journal: spent all day journaling about the trip.
Origin of journal
Middle English
breviary
from
Old French
daily, breviary
from
Late Latin
diurnālis
daily
; see
diurnal
.
---
journal

---
journal - Computer Definition
---