newspaper

news·pa·per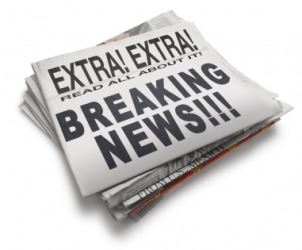 A newspaper.
noun
The definition of a newspaper is a printed publication that has timely stories and stories related to a particular subject or theme.

The New York Times is an example of a newspaper.
News printed daily or weekly and delivered to the homes of readers is an example of a newspaper.
---
newspaper
a publication consisting of folded, unbound sheets of newsprint containing news, editorials, advertisements, etc. and published regularly, typically daily or weekly
newsprint
---
newspaper
noun
A publication, usually issued daily or weekly, containing current news, editorials, feature articles, and usually advertising.
See newsprint.
---
newspaper

Noun
(countable and uncountable, plural newspapers)
(countable) A publication, usually published daily or weekly and usually printed on cheap, low-quality paper, containing news and other articles.
(uncountable, countable) A quantity of or one of the types of paper on which newspapers are printed.
Verb
(third-person singular simple present newspapers, present participle newspapering, simple past and past participle newspapered)
To cover with newspaper.

She newspapered one end of the room before painting the bookcase.

(intransitive) To engage in the business of journalism (usually used only in the gerund, newspapering)

He newspapered his way through the South on the sports beat, avoiding dry towms.
Usage notes
The harrass sense is usually in passive constructions.
---