community

com·mu·ni·ty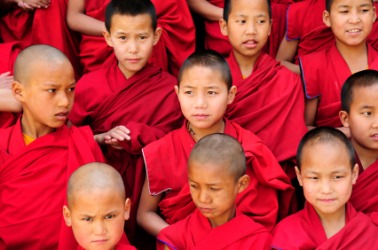 A community of young Buddhist monks.
noun
The definition of community is all the people living in an area or a group or groups of people who share common interests.

An example of community is a group of Buddhists who meet and chant together.
An example of community is a suburban area that determines local laws and guidelines for business, schooling and other governmental functions.
---
community
noun
pl.
-·ties
all the people living in a particular district, city, etc.
the district, city, etc. where they live

a group of people forming a smaller social unit within a larger one, and sharing common interests, work, identity, location, etc.: a college community, the labor community
a group of nations loosely or closely associated because of common traditions or for political or economic advantage
society in general; the public
ownership or participation in common: community of goods
similarity; likeness: community of tastes

the condition of living with others
friendly association; fellowship

Ecol.

biocenosis
Origin of community
Middle English and Old French
communite
from Classical Latin
communitas,
community, fellowship from
communis,
common
---
community
noun
pl.
com·mu·ni·ties
a. A group of people living in the same locality and under the same government.

b. The district or locality in which such a group lives.

a. A group of people having common interests: the scientific community; the international business community.

b. A group viewed as forming a distinct segment of society: the gay community; the community of color.

a. Similarity or identity: a community of interests.

b. Sharing, participation, and fellowship: a sense of community.

Society as a whole; the public.

a. A group of organisms interacting with one another and with the environment in a specific region.

b. The region occupied by a group of interacting organisms.
Origin of community
Middle English
communite
citizenry
from
Old French
from
Latin
commūnitās
fellowship
from
commūnis
common
; see
common
.
---
community

Noun
(plural communities)
A group sharing a common understanding and often the same language, manners, tradition and law. See civilization.

A community is infinitely more brutalised by the habitual employment of punishment than it is by the occasional occurrence of crime (Oscar Wilde)

A commune, or residential or religious collective.
The condition of having certain attitudes and interests in common.
(ecology) A group of interdependent organisms inhabiting the same region and interacting with each other.
(Internet) A group of people interacting by electronic means for social, professional, educational or other purposes; a virtual community.
Washington Irving

An unreserved community of thought and feeling.

a community of goods
Origin
From Old French communité, from Classical Latin communitas , from commūnis ("common"). Cognates include French communauté.
---
community - Legal Definition
n
A group of people living together or in the same locality or who share interests or a sense of identity.
The area, district, locality, neighborhood, or vicinity where a group of people lives.
marital community
A married couple in a community property state.
---