settlement

set·tle·ment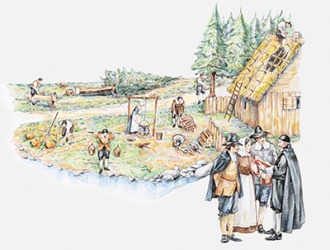 One of the first settlements in America founded by the pilgrims was in Plymouth, Massachusetts in 1620.
noun
The definition of a settlement is an agreement that resolves a dispute, an agreement officially transferring real estate to a new party, or people making a home in a new place where no one has lived before.

An example of a settlement is when divorcing parties agree on how to split up their assets.
An example of a settlement is when you buy a house and you and the sellers sign all the documents to officially transfer the property.
An example of settlement is when the colonists came to America.
---
settlement
a settling or being settled (in various senses)
a new colony, or a place newly colonized

a small or isolated community; village
a community established by the members of a particular religious or social group

an agreement, arrangement, or adjustment

the conveyance or disposition of property for the benefit of a person or persons
the property thus conveyed

an institution in a depressed and congested neighborhood offering social services and educational and recreational activities
---
settlement
noun
The act or process of settling: the settlement of sediment.

a. The settling or establishment of a person or a group of people, as in a new region or in a business.

b. A newly colonized region.

A small community.

a. An arrangement or agreement reached, as in business proceedings or negotiating a dispute: a wage settlement; a peace settlement.

b. The resolution of a lawsuit or dispute by settling.

c. The process of reaching such an arrangement, agreement, or resolution.

Law

a. The legal determination of title to property.

b. The process of making the determinations and distributions associated with a trust.

A center providing community services in an underprivileged area. Also called settlement house .
---
settlement

Noun
(plural settlements)
The state of being settled.
A colony that is newly established; a place or region newly settled.
(architecture) The gradual sinking of a building. Fractures or dislocations caused by settlement.
(finance) The delivery of goods by the seller and payment for them by the buyer, under a previously agreed trade or transaction or contract entered into.
(law) A disposition of property, or the act of granting it.
(law) A resolution of a dispute.
---
settlement - Investment & Finance Definition
The final and unconditional payment for a trading transaction.
---
settlement - Legal Definition
n
An agreement achieved between the adversaries before judgment in a trial, or before the trial begins, thereby obviating the need for it; completed payment of a debt or contractual obligation; a closing on a house; the completion by the executor of an estate of its distribution.
---