noun
The definition of a roost is a place or elevated perch where birds rest or sleep.

The bar in a chicken coop is an example of a roost.
verb
To roost is to sleep on a perch, or to stay the night.

A hen sleeping on a bar in her pen is an example of roost.
An example of roost is to stay in a hotel overnight.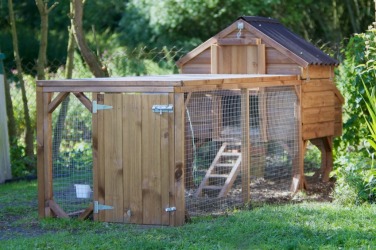 A chicken roost.
---
roost
noun
a perch on which birds, esp. domestic fowls, can rest or sleep
a place with perches for birds
a place for resting, sleeping, etc.
Origin of roost
Middle English ; from Old English
hrost,
akin to Middle Dutch
roest
; from Indo-European base an unverified form
kred-,
timberwork from source Old Church Slavonic
krada,
woodpile, Gothic
hrōt,
roof
intransitive verb
to rest, sit, sleep, etc. on a perch
to stay or settle down, as for the night
come home to roost
to have repercussions, esp. disagreeable ones; boomerang
---
roost
noun
A place where winged animals, especially birds or bats, rest or sleep.
A group of animals in a roost.
A place for temporary rest or sleep: "One corner of the Panhandle served as a roost for outlaws, thieves, and killers" (Timothy Egan).
intransitive verb
roost·ed
,
roost·ing
,
roosts
To rest or sleep on a perch or in a roost.
To rest or sleep: "We roosted high on a hill with a bottle of cheap wine and a blanket" (Julie Auer).
Origin of roost
Middle English
rooste
, from Old English
hrōst
.
---
roost
---