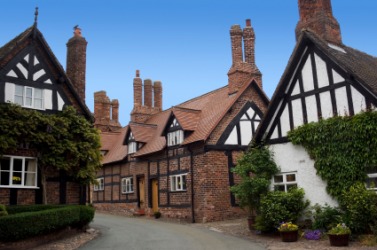 An English village.
adjective
Village means relating to a residential area smaller than a town.

An example of village used as an adjective is in the phrase "village doctor," which means a doctor who serves the residents of that area.
noun
The definition of a village is an residential area in the country that is smaller than a town.

An example of a village is a small area of homes and businesses.
---
village
a group of houses in the country, larger than a hamlet and smaller than a city or town
such a community incorporated as a municipality
the people of a village, collectively; villagers

a group or cluster of the habitations of animals or birds
Origin of village
Old French from Classical Latin
villaticus,
belonging to a country house from
villa,
country house, farm: see villa
of, in, for, or characteristic of a village
Village
name for Greenwich Village
---
village
noun
A small group of dwellings in a rural area, usually ranking in size between a hamlet and a town.
In some US states, an incorporated community smaller in population than a town.
The inhabitants of a village; villagers.
A dense group of animal habitations: a prairie dog village.
Origin of village
Middle English
from
Old French
from
Latin
vīllāticum
farmstead
from neuter of
vīllāticus
of a villa or farmstead
from
vīlla
country house, farm
; see
weik-
1
in Indo-European roots.
---
village

---