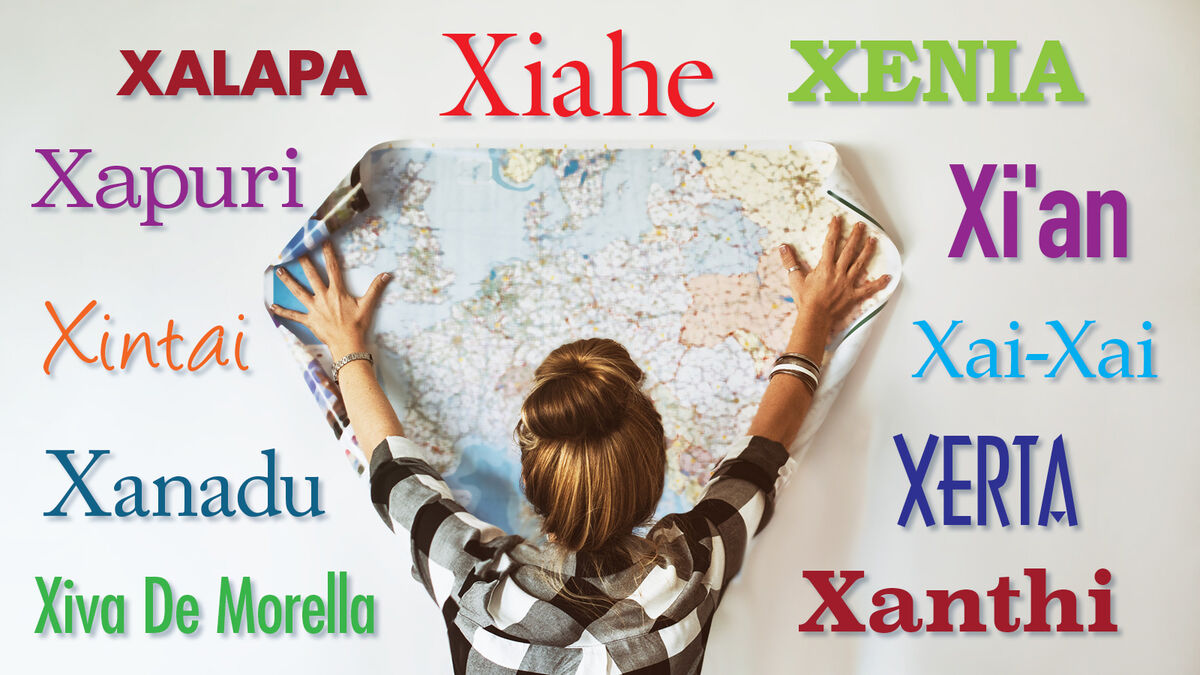 Try to think of a city or town that starts with X. There are only a few in the United States – and not many more around the world! Keep reading for an international list of cities, towns, and townships that begin with X.
North American Cities That Start With X
Have you ever been to Xenia, Ohio? It's the biggest city in the United States that starts with X. Here are other cities and locations that begin with X in the United States and Mexico.
| | | |
| --- | --- | --- |
| City | Country | Population |
| Xalapa | Mexico (Veracruz) | 424,755 |
| Xanadu | United States (Utah) | 58,657 |
| Xenia | United States (Illinois) | 364 |
| Xenia (unincorporated community) | United States (Kansas) | 160 |
| Xenia | United States (Ohio) | 26,783 |
| Xenophon (unincorporated community) | United States (Tennessee) | 6,819 |
| Xicotencatl (municipality) | Mexico (Tamaulipas) | 89,795 |
| Xochimilco (borough) | Mexico (Mexico City) | 415,007 |
Asian Cities That Start With X
Most of the cities around the world that start with X are in China. Seventeen of those countries are home to over one million people. The cities in Asia that start with X include:
| | | |
| --- | --- | --- |
| City | Country | Population |
| Xiahe | China (Gansu province) | 130,000 |
| Xam Neua | Laos | 46,800 |
| Xiamen | China (Fujian) | 3,531,000 |
| Xi'an | China (Shaanxi province) | 12,000,000 |
| Xiangtan | China (Hunan province) | 2,748,552 |
| Xiangyang | China (Hubei province) | 904,957 |
| Xianning | China (Hubei province) | 2,772,000 |
| Xiantao | China (Hubei province) | 1,175,000 |
| Xianyang | China (Shaanxi province) | 5,096,000 |
| Xiaogan | China (Hubei province) | 4,814,542 |
| Xiaoshan (district) | China (Zhejiang province) | 1,511,000 |
| Xichang | China (Sichuan province) | 481,796 |
| Xilinhot | China (Inner Mongolia) | 245,886 |
| Xingcheng | China (Liaoning province) | 140,000 |
| Xinghua | China (Jiangsu province) | 791,000 |
| Xingtai | China (Hebei province) | 7,104,103 |
| Xingyi | China (Guizhou province) | 784,032 |
| Xining | China (Qinghai province) | 2,208,708 |
| Xinji | China (Hebei province) | 662,000 |
| Xintai | China (Shandong province) | 1,316,000 |
| Xinxiang | China (Henan province) | 5,707,801 |
| Xinyang | China (Henan province) | 1,230,000 |
| Xinyi | China (Guangdong province) | 913,708 |
| Xinyu | China (Jiangxi province) | 1,139,000 |
| Xinzhou | China (Shanxi province) | 3,068,000 |
| Xuancheng | China (Anhui province) | 2,533,000 |
| Xuchang | China (Henan province) | 4,307,488 |
European Cities That Start With X
While there aren't many large cities in Europe that start with X, there are several small villages and towns with X names. Towns like Xiva De Morella in Spain began as walled cities and still include ancient architecture. Other places with X names include:
| | | |
| --- | --- | --- |
| City | Country | Population |
| Xangongo (town) | Angora (Cunene province) | 70,568 |
| Xanten (town) | Germany | 21,572 |
| Xanthi | Greece | 111,631 |
| Xares (community) | Spain (Galacia) | 70 |
| Xàtiva (town) | Spain (Valencia) | 29,045 |
| Xerta (town) | Spain (Tarragona) | 1,170 |
| Xifias (village) | Greece | <100 |
| Xinzo De Limia (town) | Spain (Ourense province) | 9,836 |
| Xiva De Morella | Spain (Castellón province) | 2,430 |
| Xixerella (village) | Andorra | 20 |
Other Cities That Start With X
There are a few more cities around the world that begin with X. Xai-Xai, which was known as João Belo until 1975, is the only city in Africa that begins with X. Other cities that start with X in South America and the Middle East include:
| | | |
| --- | --- | --- |
| City | Country | Population |
| Xai-Xai | Mozambique (Gaza province) | 116,343 |
| Xanxerê | Brazil | 47,679 |
| Xapuri | Brazil | 14,314 |
| Xo'jayli (town) | Uzbekistan (Karakalpakstan) | 146,400 |