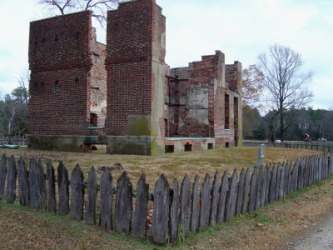 Ruins of Jamestown.
---
Jamestown
former village near the mouth of the James River, Va.: the 1st permanent English colonial settlement in America (1607)

capital of St. Helena: pop. 1,500
Origin of Jamestown
after James I
---
Jamestown
The capital of St. Helena in the southern Atlantic Ocean.
A former village of southeast Virginia, the first permanent English settlement in America. It was founded in May 1607 and named for the reigning monarch, James I. Jamestown became the capital of Virginia after 1619 but was almost entirely destroyed during Bacon's Rebellion (1676) and further declined after the removal of the capital to Williamsburg (1698–1700).
A city of western New York on Chautauqua Lake near the Pennsylvania border. It is the trade center of a farming and grape-producing region.
---
Jamestown
Proper noun
The capital of the island Saint Helena.
A city in Kentucky
---