Pocahontas
[pō′kə hän′təs]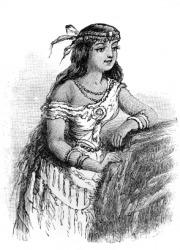 Pocahontas was an important figure in the early history of America.
---
Pocahontas
1595?-1617; North American Indian princess: reputed to have saved Captain John Smith from execution: daughter of Powhatan
---
Pocahontas
Originally Matoaka. 1595?–1617.
Powhatan princess who befriended the English colonists at Jamestown and is said to have saved Capt. John Smith from execution by her people. She married the colonist John Rolfe (1614) and later traveled to England, where she died.
Pocahontas
after a 1616 engraving by Simon van de Passe
(1595–1647)
---