resolution

res·o·lu·tion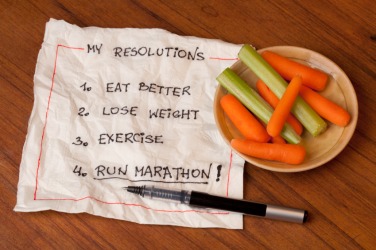 These are good resolutions.
noun
The definition of a resolution is a plan for something to be done.

An example of a resolution is a decision to lose 20 pounds in the upcoming year.
---
resolution
the act or process of resolving something or breaking it up into its constituent parts or elements
the result of this

a resolving, or determining; deciding
the thing determined upon; decision as to future action; resolve

a resolute quality of mind
a formal statement of opinion or determination adopted by an assembly or other formal group
a solving, as of a puzzle, or answering, as of a question; solution
that part of a play, novel, etc., typically after the climax, in which the plotlines are concluded or clarified

Med.

the subsidence or disappearance of swelling, fever, or other manifestation of disease

Music

the passing of a dissonant chord (or tone in a chord) to a consonant chord (or tone)
a chord or tone to which such passing occurs

Physics

the capability of an optical system, or other imaging system, of making clear and distinguishable the separate parts or components of an object
the clarity and sharpness of an image or of a video or computer screen, camera, etc. that displays or captures an image as measured in dots (or pixels) per inch: a picture made with high resolution
Origin of resolution
Middle English
resolucioun,
dissolution from Middle French
resolution
from Classical Latin
resolutio
from
resolutus:
see resolute
---
resolution
noun
The state or quality of being resolute; firm determination: faced the situation with resolution.

a. A firm decision to do something: made a resolution to get more exercise.

b. A course of action determined or decided on: His resolution is to get up early.

a. The act of solving or explaining a problem or puzzle.

b. The resolving or concluding of a dispute or disagreement.

c. The part of a literary work in which the complications of the plot are resolved or simplified.

A formal statement of a decision or expression of opinion put before or adopted by an assembly such as the US Congress.
Physics & Chemistry The act or process of separating or reducing something into its constituent parts: the prismatic resolution of sunlight into its spectral colors.
The clarity or fineness of detail that can be distinguished in an image, often measured as the number or the density of the discrete units, such as pixels or dots, that compose it.
Medicine The subsiding or termination of an abnormal condition, such as a fever or inflammation.
Music

a. The progression of a dissonant tone or chord to a consonant tone or chord.

b. The tone or chord to which such a progression is made.

The substitution of one metrical unit for another, especially the substitution of two short syllables for one long syllable in quantitative verse.
---
resolution

Noun
(plural resolutions)
A strong will, determination.
The state of being resolute.

His stalwart resolution is perhaps admirable, perhaps foolish.

A statement of intent, a vow

By February, most New Year's resolutions are forgotten.   My resolution is to cut back on the fast food this year.

The act of discerning detail.
(computing) The degree of fineness with which an image can be recorded or produced, often expressed as the number of pixels per unit of length (typically an inch).

Printing at higher resolution will cause a reduction in performance.

(computing) The number of pixels in an image being stored or displayed.

This monitor's maximum resolution is 1600 × 1200.

(mathematics) The act or process of solving; solution.

the resolution of an equation

(sciences) The separation of the constituent parts (of a spectrum etc).
(sciences) The degree of fineness of such a separation.
(music) Progression from dissonance to consonance; a chord to which such progression is made.
The moment in which the conflict ends and the outcome of the action is clear.
Origin
Recorded since 1412, as Middle English resolucioun "a breaking into parts", either from Anglo-Norman or directly from Latin resolūtiō ("a loosening, solution"), from resolvere ("to loosen"), itself from the intensive prefix re- + solvere 'to loosen'.
---
resolution - Computer Definition

The definition, sharpness, or level of detail of the reproduction of an image. Resolution is directly related to the number and density of the dots of color (black, white, and perhaps other colors). Group III facsimile specifications, for example, provide a number of options, expressed as horizontal lines per inch (lpi) in terms of scanning (input), and linear dots per inch (dpi) in terms of sensing and printing (output).The actual (and nominal) fax industry standards are as follows:
---
(1) See resolve and name resolution.
(2) The number of bits used to record the value of a sample in a digitized signal. See sampling.
(3) The degree of sharpness of a displayed or printed image. Resolution is defined as a matrix of "pixels" per inch. Screen Pixels Per Inch A screen resolution of 1920x1200 means 1,920 pixels horizontally across each of 1,200 lines, which run vertically from top to bottom. Very often, a third number is added to the specification to designate colors; for example, 1920x1200x64K indicates a setting of 64,000 colors. However, the third number may also be the refresh rate; for example, 1280x1024x60 means 1280x1024 pixels at 60Hz (refreshed 60 times per second). For a detailed list of all the resolutions used in monitors and TVs, see screen resolution. See also how to select a PC monitor. Printed Dots Per Inch For printers and scanners, resolution is expressed as the number of dots per linear inch. 300 dpi means 300x300, or 90,000 dots per square inch. Laser printers and plotters have resolutions from 300 to 1,200 dpi and more, whereas most display screens provide less than 100 dpi. That means jagged lines on screen may smooth out when they print. Scanners have both an optical (physical) resolution and an interpolated resolution, which is computed (see scanner). See lines of resolution and aspect ratio.
---