presentation

pres·en·ta·tion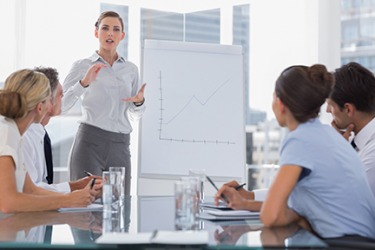 A woman giving a business presentation to her colleagues.
noun
Presentation is defined as the act of formally giving something to someone or of formally demonstrating or showing something.

An example of presentation is when an assembly is hosted to give out an award.
An example of presentation is the pleasant way food is arranged on a plate.
An example of presentation is when a salesman holds a conference to show all his clients a cool new product.
---
presentation
a presenting or being presented
something that is presented; specif.,

a performance, as of a play
a gift

the way in which a food is served; esp., the often artistic arrangement of food on a plate to make it especially appealing

Commerce

presentment

Eccles.

the naming of a clergyman to a benefice
a request to the bishop to institute the clergyman named

Med.

the position of the fetus in the uterus at the time of delivery, with reference to the part presenting itself at the mouth of the uterus: an arm or breech presentation

anything present in the consciousness at a single moment as an actual sensation or a mental image
anything known by sense perception rather than by description; percept
Origin of presentation
Middle English from Middle French
presentacion
from Late Latin
praesentatio
from
praesentare:
see present, transitive verb
---
presentation
noun
a. The action of presenting something: the presentation of awards.

b. The style or manner with which something is offered for consideration or display: "These truths are not amenable to scientific presentation" ( Karen Armstrong )

Something that is presented, especially:

a. A theatrical or cinematic production.

b. A demonstration, lecture, or speech: gave a presentation on drug abuse.

A formal introduction of someone to others, as at court.
Ecclesiastical The act or right of naming a cleric to a benefice.
Medicine

a. The position of the fetus in the uterus at birth with respect to the mouth of the uterus.

b. A symptom or sign or a group of symptoms or signs that is evident during a medical examination: The patient's presentation was consistent with a viral illness.

c. The fact of being evident or manifest. Used of a disease or condition: the presentation of thyroid disease during pregnancy.
Related Forms:
pres′en·ta′tion·al

adjective
---
presentation

Noun
(plural presentations)
Origin
From Old French presentation (French présentation), from Latin praesentātiōnem, accusative singular of praesentātiō ("representation, exhibition").
---
presentation - Computer Definition
---