noun
The definition of a donation is money or some other item of value given to a charity or a person in need.

When you give a charity for the homeless a $100 check, this is an example of a $100 donation.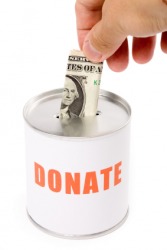 Making a donation.
---
donation definition by Webster's New World
noun
the act of donating
a gift or contribution, as to a charitable organization
Origin: Middle English donacioun ; from Classical Latin donatio ; from donatus, past participle of donare ; from donum, gift ; from Indo-European an unverified form donom ; from base an unverified form do-, give: see date
Webster's New World College Dictionary Copyright © 2010 by Wiley Publishing, Inc., Cleveland, Ohio. Used by arrangement with John Wiley & Sons, Inc.
---
donation definition by American Heritage Dictionary
noun
The act of giving to a fund or cause.
A gift or grant.
Origin: Middle English donacioun, gift, benefice, from Old French, from Latin dōnātiō, dōnātiōn-, from dōnātus, past participle of dōnāre, to give, from dōnum, gift; see dō- in Indo-European roots.