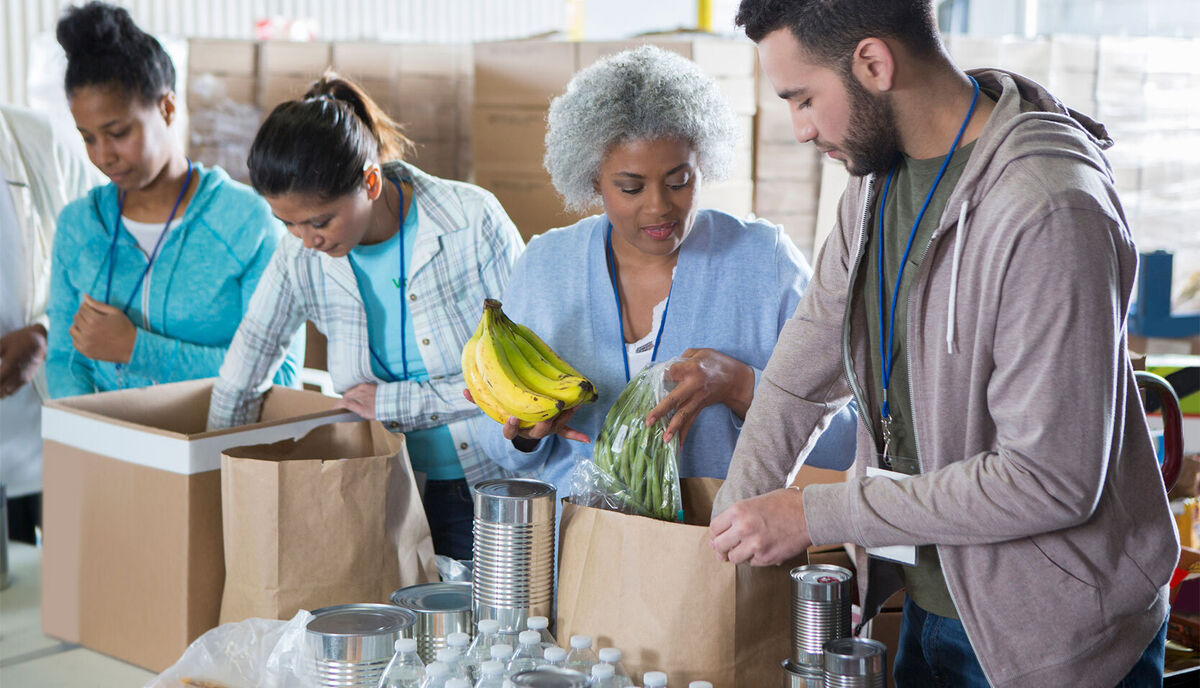 Becoming familiar with examples of humanitarian acts can be helpful in better understanding how to assist fellow human beings. Humanitarian acts come in all sizes. Going overseas to help feed starving children is a humanitarian act, but so is an individual giving a small monthly contribution to a local charity for the homeless or sponsoring a hungry child who lives in another country. There are many humanitarian examples, from small-scale individual actions to massive humanitarian aid efforts.
Day-to-Day Humanitarian Action Examples
A humanitarian can be defined as a person who cares about people and who often participates in charity or does good work to show that care. Therefore, many acts fall into this category. Caring about people and doing good works does not have to be done through an official organization. Individuals can contribute to the humanitarian effort themselves.
Invite a person who is homeless out to dinner or offer them funds to purchase one or more meals.

Donate money to a larger organization that helps people who are facing difficult situations or are otherwise in need.

Visit an older person in the hospital or in a nursing home.

Reach out to a person who is often left out at work or school.

Raise funds for or deliver meals to a family in the community who is in need.

Take food, clothing and other supplies to people whose lives are impacted by a devastating injury or illness.

Provide aid and assistance to those who have lost their homes due to natural disasters or other catastrophic events.

Make a weekly donation to a local food pantry.

Offer to babysit for free for a struggling family.

Stand up for a person who is often teased by or put down by others.

Help take care of a sick or aging family member or friend.

Organize a group of people to visit a nursing home to spend time with the residents.

Give speeches about how others can get involved in humanitarian efforts.

Publish articles to motivate others to engage in humanitarian acts.
All of these actions can help out fellow humans who are facing tough situations.
Local Humanitarian Examples and Actions
While global humanitarian aid often gets the most publicity, there are countless locally locally-centered community involvement programs that would greatly appreciate your assistance with positively impacting other humans.
Volunteer at a local soup kitchen or homeless shelter, especially during a time of year that they don't have a lot of volunteers already.

Donate things like socks, jackets, blankets, and toiletry supplies to a homeless shelter.

Donate blood to the American Red Cross or other nonprofit blood donation organizations to help those facing difficult medical situations.

Spearhead an effort to host a blood drive at the company where you work or your church to help generate even more blood donations.

Participate in a charitable drive that's focused on helping struggling families, such as Toys for Tots or the Salvation Army's Angel Tree program.

Volunteer with a school or after-school program to help struggling students to better learn their subject matter.

Volunteer your time at any local charity that provides aid and assistance to people in need in your community.

Serve as a foster parent to a child who is in the foster care system.

Visit a residential child care community and spend time playing with the children, helping with their homework or tutoring them.

Volunteer with the local Migrant Head Start program in your area.

Organize a group of friends to go into a local Ronald McDonald House and prepare a meal for the families who are staying there, all of whom have critically sick children in the hospital.

Participate in a nonviolent protest to speak out against injustices to human rights.

Spend time serving your community or another community in need as an Americorps VISTA volunteer.

Volunteer with Meals on Wheels or another organization that delivers hot meals to homebound older people.

Give your time to a local food bank, organizing and categorizing donations for distribution or giving out food boxes to people in need.

Volunteer with an animal rescue organization, helping to care for the animals and working diligently to find people to adopt the animals.
All of these actions have the potential to greatly benefit the community and the people living there, even if the efforts are not part of a large, well-known humanitarian group or movement

Large-Scale Humanitarian Aid Examples
Across the world, people come together in organized groups to help provide for those in need of assistance, such as those in war-torn regions or areas that have been devastated by catastrophic weather events. Many international charity organizations participate in ongoing large-scale humanitarian aid, though smaller organizations also often get involved.
Ideas for Getting Involved
If you've been inspired to participate in some humanitarian efforts, places to volunteer include:
soup kitchens

centers or services for older people

nursing homes

schools

churches

centers for struggling students

hospitals

homeless shelters

social services organizations

large scale charitable organizations, such as the top 100 charities
Humanitarian organizations are always seeking assistance from donors and/or organizations. Reach out to the groups that provide aid to the populations you are most interested in helping with and let them know you'd like to give of your time, talent or money in order to contribute to the community (or the world) through humanitarian acts. The group may have programs or projects with which you can assist, or may provide you with some ideas that you could implement on your own.

If you're not sure which groups to reach out to, you may want to begin by identifying the United Way agencies in your community. The organizations that receive financial support from the United Way are all charitable entities that rely on volunteers and donors to help provide various humanitarian aid examples.

You Can Make a Difference in the World
The smallest individual actions can make a huge difference in the lives of people facing grave difficulties. Whether you act on your own or get involved with a local or massive humanitarian relief organization, your generosity is sure to be greatly appreciated.
Now that you're familiar with some humanitarian examples and have ideas on how you can engage in humanitarian acts, turn your attention to the bigger issues of why humanitarianism is so important. Start by exploring examples of social justice issues facing the world. Then, investigate the concepts of ethics, morals and values.