recitation

rec·i·ta·tion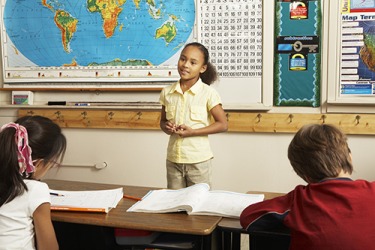 Kayla gave a recitation of her book report to the class.
noun
The definition of a recitation is the telling of details, or the act of saying something that's been memorized out loud, or the thing that is read.

An example of a recitation is telling a policeman what happened at a crime scene one more time.
An example of a recitation is a student saying a poem that they memorized as part of their classwork.
An example of a recitation is the poem that each student memorized.
---
recitation
a reciting, as of facts, events, etc.; recital

a saying aloud in public of something memorized
a piece of prose or verse memorized for this

a reciting by pupils of answers to questions on a prepared lesson
a class meeting or period in which this occurs
Origin of recitation
Classical Latin
recitatio
---
recitation
noun
a. The act of reciting memorized materials in a public performance.

b. The material so presented.

a. Oral delivery of prepared lessons by a pupil.

b. The class period within which this delivery occurs.

A regularly scheduled instructional session, often led by a student teacher or teaching assistant, in which a small group of students discuss material taught to a larger group in a lecture.
---
recitation

---