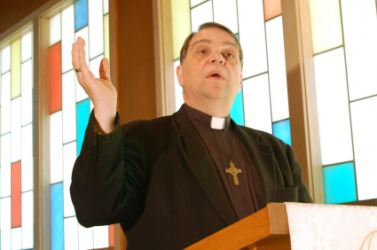 A priest delivering a sermon
noun
The definition of a sermon is a lecture, speech or talk about moral or spiritual issues, especially when the talk is administered formally in a church or religious setting.

A speech made by a priest at church on Sunday morning that is intended to teach a religious lesson is an example of a sermon.
A long lecture on proper moral behavior is an example of a sermon.
---
sermon
a lecture given as instruction in religion or morals, esp. by a priest, minister, or rabbi during services, using a text from Scripture
any serious talk on behavior, responsibility, etc., esp. a long, tedious one
Origin of sermon
Old French from Ecclesiastical Late Latin
sermo
from L, a talk, discourse from Indo-European base an unverified form
swer-
, to speak from source swear
---
sermon
noun
A religious discourse, especially one delivered as part of a service.
An often lengthy and tedious speech of reproof or exhortation: "his father's Teutonic and pedestrian sermon on the safety of staying home" ( Paul Theroux )
Origin of sermon
Middle English
from
Old French
from
Latin
sermō
sermōn-
discourse
; see
ser-
2
in Indo-European roots.
Related Forms:
ser·mon′ic ser·mon′i·cal

adjective
---
sermon

Noun
(plural sermons)
A lengthy speech of reproval.
Verb
(third-person singular simple present sermons, present participle sermoning, simple past and past participle sermoned)
(poetic, obsolete) To discourse to or of, as in a sermon.
Part or all of this entry has been imported from the 1913 edition of Webster's Dictionary, which is now free of copyright and hence in the public domain. The imported definitions may be significantly out of date, and any more recent senses may be completely missing.
---