lesson

les·son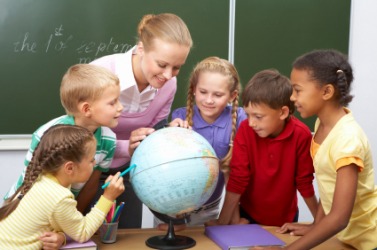 A group of students have a geography lesson.
noun
The definition of a lesson is something that is to be learned, a learning period or a plan for teaching.

An example of a lesson is an English teacher's plan for her next class.
verb
Lesson is defined as to teach, instruct or discipline.

An example of lesson is to teach someone to play the guitar.
---
lesson
something to be learned; specif.,

an exercise or assignment that a student is to prepare or learn within a given time; unit of instruction
the instruction given during one class or instruction period
something that needs to be learned (or the event through which it is learned) for the sake of one's safety, well-being, etc.
[pl.] course of instruction: music lessons

a selection, as of Scripture, forming part of a religious service; lection
a rebuke; reproof
Origin of lesson
Middle English
lessoun
from Old French
leçon
from Classical Latin
lectio
, a reading, hence text, lesson from past participle of
legere
, to read: see logic
to give a lesson to
to rebuke; reprove
---
lesson
noun
Something to be learned: lessons from observing nature.

a. A period of instruction; a class.

b. An assignment or exercise in which something is to be learned.

c. The act or an instance of instructing; teaching.

a. An experience, example, or observation that imparts new knowledge or understanding: The conversation was a lesson in tact.

b. The knowledge or wisdom so acquired. Missing the opening act taught me a lesson about being late.

often Lesson A reading from the Bible or other sacred text as part of a religious service.
transitive verb
les·soned, les·son·ing, les·sons
Archaic
To teach a lesson to; instruct.
To rebuke or reprimand.
Origin of lesson
Middle English
lessoun
from
Old French
leson
from
Latin
lēctiō
lēctiōn-
a reading
from
lēctus
past participle of
legere
to read
; see
leg-
in Indo-European roots.
---
lesson

Noun
(plural lessons)
A section of learning or teaching into which a wider learning content is divided.

In our school a typical working week consists of around twenty lessons and ten hours of related laboratory work.

Something learned or to be learned.

Nature has many lessons to teach to us.

Something that serves as a warning or encouragement.

I hope this accident taught you a lesson!
The accident was a good lesson to me.

A section of the Bible or other religious text read as part of a divine service.

Here endeth the first lesson.

A severe lecture; reproof; rebuke; warning.
(music) An exercise; a composition serving an educational purpose; a study.
Verb
(third-person singular simple present lessons, present participle lessoning, simple past and past participle lessoned)
To give a lesson to; to teach.
Origin
From Old French leçon, from Latin lÄ"ctiō ("a reading"), from legō ("I read, I gather").
---