rebuke

re·buke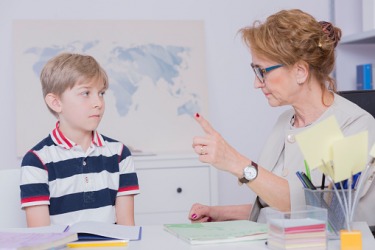 The teacher would often rebuke her students in front of the class which did not foster a positive classroom environment.
verb
Rebuke is defined as to scold, blame or criticize in a sharp way.

An example of rebuke is a parent yelling at a child for not keeping up with them while walking.
---
rebuke
transitive verb
-·buked′

,

-·buk′ing
to blame or scold in a sharp way; reprimand

Obs.

to force back
Origin of rebuke
Middle English
rebuken
from Anglo-French
rebuker
from Old French
rebuchier
from
re-,
back +
buchier,
to beat from
buche,
stick, billet from Germanic an unverified form
buska
---
rebuke
transitive verb
re·buked, re·buk·ing, re·bukes
To criticize (someone) sharply; reprimand. See Synonyms at admonish.
To express sharp criticism regarding (an act, for example): "a series of sweeping decisions that rebuked the investigators' presumptions" ( Donald A. Ritchie )
Obsolete To check or repress.
noun
An expression of strong disapproval.
Origin of rebuke
Middle English
rebuken
from
Old North French
rebuker
re-
back
(
from
Latin; see
re-
. )
buker
to strike, chop wood
(
variant of
Old French
buschier
) (
from
busche
firewood
) (
of Germanic origin
)
---
rebuke

Verb
(third-person singular simple present rebukes, present participle rebuking, simple past and past participle rebuked)
Origin
From Middle English rebuken, from Anglo-Norman rebuker ("to beat back, repel"), from re- + Old French *buker, buchier, buschier ("to strike, hack down, chop"), from busche ("wood"), from Vulgar Latin buska ("wood, grove"), from Frankish *busc, *busk ("grove"), from Proto-Germanic *buskaz ("bush"). More at re-, bush.
---