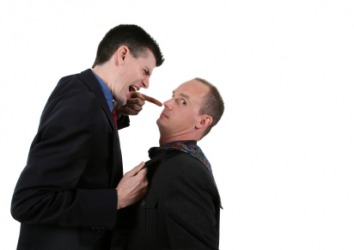 A boss lambastes his employee.
verb
The definition of lambaste is to beat, or to scold or berate by yelling.

An example of lambaste is for a parent to scold a child by yelling.
---
lambaste
transitive verb
-·bast′ed

,

-·bast′ing
to beat soundly; thrash
to scold or denounce severely
Origin of lambaste
lam + baste
---
lambaste
transitive verb
lam·bast·ed, lam·bast·ing, lam·bastes
To give a thrashing to; beat.
To scold sharply; berate: lambasted the workers for the shoddy construction.
Origin of lambaste
Perhaps
lam
1
baste
3
---
lambaste

Verb
(third-person singular simple present lambastes, present participle lambasting, simple past and past participle lambasted)
To scold, reprimand or criticize harshly.

The sergeant lambasted the new recruits daily.
Her first novel was well and truly lambasted by the critics.
---