noun
The definition of a lamb is a baby sheep, the meat of sheep, a gentle or sweet person, or someone who is easily fooled because of inexperience.

A newborn sheep is an example of a lamb.
The meat traditionally used to make shepherd's pie is an example of lamb.
An example of a person who is a lamb is someone who is very gentle with a new baby.
A person who is tricked into giving money to a stranger is an example of someone who is a lamb.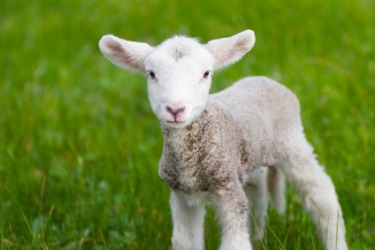 A cute little lamb.
---
lamb definition by Webster's New World
noun
a young sheep
the flesh of a young sheep, used as food
lambskin
a gentle or innocent person, particularly a child
a loved person; dear
a person easily tricked or outwitted, as an inexperienced speculator
Origin: Middle English ; from Old English akin to German lamm (OHG lamb) ; from Indo-European an unverified form lonbhos (; from base an unverified form el-: see elk) from source Gothic lamb
intransitive verb
to give birth: said of a ewe
Lamb, Charles (pen name Elia) 1775-1834; Eng. essayist & critic

Lamb, Mary (Ann) 1764-1847; Eng. writer: sister of Charles & coauthor with him of Tales from Shakespeare

Lamb, Willis Eugene 1913-; U.S. physicist
Webster's New World College Dictionary Copyright © 2010 by Wiley Publishing, Inc., Cleveland, Ohio. Used by arrangement with John Wiley & Sons, Inc.
---
lamb definition by American Heritage Dictionary
noun
a. A young sheep, especially one that is not yet weaned.

b. The flesh of a young sheep used as meat.

c. Lambskin.

A sweet, mild-mannered person; a dear.
One who can be duped or cheated especially in financial matters.
Lamb Christianity Jesus.
intransitive verb
lambed
,
lamb·ing
,
lambs
To give birth to a young sheep.
Origin: Middle English, from Old English.
, Charles Known as "Elia." 1775-1834.
British critic and essayist. With his sister Mary Ann Lamb (1764-1847) he wrote the children's book Tales from Shakespeare (1807).
, William. Second Viscount Melbourne. 1779-1848.
British prime minister (1834 and 1835-1841) and adviser to Queen Victoria.
The American Heritage® Dictionary of the English Language, 4th edition Copyright © 2010 by Houghton Mifflin Harcourt Publishing Company. Published by Houghton Mifflin Harcourt Publishing Company. All rights reserved.
---
lamb - Phrases/Idioms