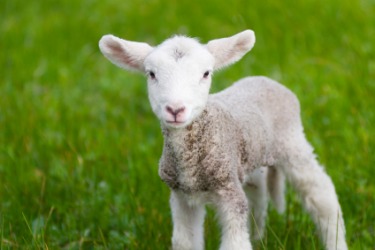 A cute little lamb.
noun
The definition of a lamb is a baby sheep, the meat of sheep, a gentle or sweet person, or someone who is easily fooled because of inexperience.

A newborn sheep is an example of a lamb.
The meat traditionally used to make shepherd's pie is an example of lamb.
An example of a person who is a lamb is someone who is very gentle with a new baby.
A person who is tricked into giving money to a stranger is an example of someone who is a lamb.
---
lamb
a young sheep
the flesh of a young sheep, used as food
lambskin
a gentle or innocent person, particularly a child
a loved person; dear
a person easily tricked or outwitted, as an inexperienced speculator
Origin of lamb
Middle English from OE, akin to German
lamm
(OHG
lamb
) from Indo-European an unverified form
lonbhos
( from base an unverified form
el-
: see elk) from source Gothic
lamb
to give birth: said of a ewe
Lamb
(pen name Elia) 1775-1834; Eng. essayist & critic

1764-1847; Eng. writer: sister of Charles & coauthor with him of Tales from Shakespeare
---
lamb
noun
a. A young sheep, especially one that is not yet weaned.

b. The flesh of a young sheep used as meat.

c. Lambskin.

A sweet, mild-mannered person; a dear.
One who can be duped or cheated especially in financial matters.
Lamb Christianity Jesus.
intransitive verb
lambed, lamb·ing, lambs
To give birth to a young sheep.
Origin of lamb
Middle English
from
Old English
---
lamb

Noun
(plural lambs or lambren)
A young sheep.
(figuratively) A person who is meek, docile and easily led.
A simple, unsophisticated person.
(finance, slang) One who ignorantly speculates on the stock exchange and is victimized.
Verb
(third-person singular simple present lambs, present participle lambing, simple past and past participle lambed)
(intransitive) Of a sheep, to give birth.
(intransitive) To assist (sheep) to give birth.

The shepherd was up all night, lambing her young ewes.
Origin
Old English lamb, from Proto-Germanic *lambaz (compare Dutch lam, German Lamm, Swedish lamm), from Proto-Indo-European *h₁l̥h₁onbʰos (compare Scottish Gaelic lon ("elk"), Ancient Greek έλαφος (élaphos, "red deer")), enlargement of *h₁elh₁én. More at elk.
---