noun
Sap is sugary water that is found in the vascular system of some plants or a gullible person who can easily be tricked.

An example of sap is what is collected from a maple tree to make maple syrup.
An example of sap is a person who falls for a trick.
verb
To sap is to weaken someone or to destroy their spirit, energy or power, especially when done slowly over time.

An example of sap is a teen who is rebellious and continually drains the energy of her parents.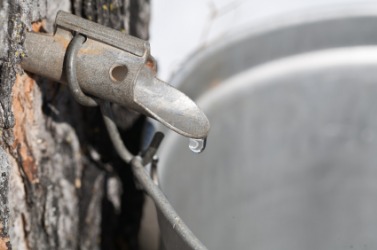 Collecting sap from a tree.
---
sap definition by Webster's New World
noun
the juice that circulates through a plant, esp. a woody plant, bearing water, food, etc. to the tissues
any fluid vital to the life or health of an organism
vigor; vitality

Origin: < saphead

Slang

a stupid person; fool
Origin: Middle English ; from Old English sæp, akin to German saft ; from Indo-European base an unverified form sab-, variant, variety of an unverified form sap-, to taste, perceive from source Classical Latin sapere, to taste, know
noun
an extended, narrow trench for approaching or undermining an enemy position or fortification
Origin: Middle French sappe ; from the verb
transitive verb
sapped, sapping
to undermine by digging away foundations; dig beneath
to undermine in any way; weaken; exhaust
Origin: MFr sapper < sappe, a hoe < VL sappa, orig. he-goat, prob. < Illyrian *zapp-
intransitive verb
to dig saps
to approach an enemy's position by saps
noun
☆
Slang
a blackjack, short club, etc.
Origin: probably origin, originally contr. ; from sapling
Webster's New World College Dictionary Copyright © 2010 by Wiley Publishing, Inc., Cleveland, Ohio. Used by arrangement with John Wiley & Sons, Inc.
---
sap definition by American Heritage Dictionary
noun
a. The watery fluid that circulates through a plant, carrying food and other substances to the various tissues.

b. The fluid contents of a plant cell vacuole.

An essential bodily fluid.
Health and energy; vitality.
Slang A gullible person; a dupe.
A leather-covered hand weapon; a blackjack.
transitive verb
sapped
sapped
,
sap·ping
,
saps
To drain of sap.
To hit or knock out with a sap.
Origin: Middle English, from Old English sǽp.
noun
A covered trench or tunnel dug to a point near or within an enemy position.
verb
sapped
sapped
,
sap·ping
,
saps
verb
, transitive
To undermine the foundations of (a fortification).
To deplete or weaken gradually.
verb
, intransitive
To dig a sap.
Origin: Obsolete French sappe or Italian zappa, hoe, from Old French and Old Italian, both from Late Latin sappa.
The American Heritage® Dictionary of the English Language, 4th edition Copyright © 2010 by Houghton Mifflin Harcourt Publishing Company. Published by Houghton Mifflin Harcourt Publishing Company. All rights reserved.
---
sap - Computer Definition
(1) (SAP America, Inc., Newtown Square, PA, www.sap.com) The U.S. branch of one of the world's largest software companies, SAP AG, Walldorf, Germany. SAP was founded in 1972 as Systems, Applications and Products in Data Processing by five former engineers from IBM. SAP's R/2 mainframe and R/3 client/server business application suites were the flagship products for the company, catapulting the company into prominence in the 1980s and 1990s. Today, under the banner of the SAP Business Suite, SAP is a leading vendor in enterprise resource planning (ERP) and other enterprise business software. In 2010, SAP acquired Sybase, maker of the popular Sybase database and related software. See SAP Business Suite, R/3 and Sybase.
(2) (Session Announcement Protocol) An IETF protocol for distributing session description messages to potential recipients. It is widely used to send SDP messages. See SIP.
(3) (Service Advertising Protocol) A NetWare protocol used to identify the services and addresses of servers attached to the network. The responses are used to update a table in the router known as the Server Information Table.
(4) (Secondary Audio Program) An NTSC audio channel used for auxiliary transmission, such as foreign language broadcasting or teletext.
Computer Desktop EncyclopediaTHIS DEFINITION IS FOR PERSONAL USE ONLYAll other reproduction is strictly prohibited without permission from the publisher.© 1981-2014 The Computer Language Company Inc. All rights reserved.
---
sap - Science Definition
The watery fluid that circulates through a plant that has vascular tissues. Sap moving up the xylem carries water and minerals, while sap moving down the phloem carries water and food.
See cell sap.