mine

mine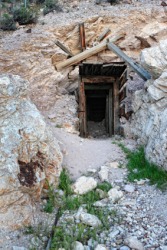 The entrance to an old abandoned mine.
noun
Mine is defined as a very large hole made in the ground to remove stones, coal and other minerals.

An example of a mine is a cavern made in the Earth in order to remove gold.
pronoun
The definition of mine is a reference to a thing or things that belong to the person speaking.

An example of mine is what one toddler says to another toddler when they take their toy back from them.
---
mine
that or those belonging to me: the possessive form of I, used without a following noun, often after of: that book is mine; mine are better; he is a friend of mine
Origin of mine
Middle English
min
from OE, genitive sing of
ic,
I, akin to German
mein:
for base see me
Archaic
my: used before a word beginning with a vowel or the letter
h[mine
eyes,
mine
honor
]
; also used after a noun in direct address:
daughter mine
a large excavation made in the earth, from which to extract metallic ores, coal, precious stones, salt, or certain other minerals
the surface buildings, shafts, elevators, etc. of such an excavation
a deposit of ore, coal, etc.

any great source of supply: a mine of information
a kind of fireworks device that explodes in the air and scatters a number of smaller fireworks

Mil.

a tunnel dug under an enemy's trench, fort, etc., esp. one in which an explosive is placed to destroy the enemy or its fortifications
an explosive charge in a container, buried in the ground for destroying enemy troops or vehicles on land, or placed in the sea for destroying enemy ships

Zool.

the burrow of an insect, esp. of a leaf miner
Origin of mine
Middle English from Middle French from Vulgar Latin an unverified form
mina
from Celt, as in Irish
mein,
Welsh
mwyn,
vein of metal
intransitive verb
mined

,

min′ing
to dig a mine; specif.,
to dig ores, coal, etc. from the earth
to dig or lay military mines
Origin of mine
ME
minen
< OFr
miner
to dig in (the earth) for ores, coal, etc.
to dig or remove (ores, coal, etc.) from the earth

to take from (a source)

to dig a tunnel under (an enemy installation)
to place explosive mines in or under

to make hollows under the surface of: leaves mined by larvae
to undermine or ruin slowly by secret methods, plotting, etc.
---
mine
noun
a. A hole or tunnel dug into the earth from which ore or minerals are extracted.

b. A surface excavation where the topmost or exposed layer of earth is removed for extracting its ore or minerals.

c. The site of such a hole, tunnel, or excavation, including its surface buildings and equipment.

A deposit of ore or minerals in the earth or on its surface.
An abundant supply or source of something valuable: This guidebook is a mine of information.

a. A tunnel dug under an enemy emplacement to destroy it by explosives, cause it to collapse, or gain access to it for an attack.

b. An explosive device used to destroy enemy personnel, shipping, fortifications, or equipment, often placed in a concealed position and designed to be detonated by contact, proximity, or a time fuse.

A burrow or tunnel made by an insect, especially one made in a leaf by a leaf miner.
verb
mined, min·ing, mines
verb
transitive
a. To extract (ore or minerals) from the earth.

b. To dig a mine in (the earth) to obtain ore or minerals.

a. To tunnel under (the earth or a surface feature).

b. To make (a tunnel) by digging.

To lay explosive mines in or under.
To attack, damage, or destroy by underhand means; subvert.
To delve into and make use of; exploit: mine the archives for detailed information.
verb
intransitive
a. To excavate the earth for the purpose of extracting ore or minerals.

b. To work in a mine.

To dig a tunnel under the earth, especially under an enemy emplacement or fortification.
To lay explosive mines.
Origin of mine
Middle English
from
Old French
from
Vulgar Latin
mīna
probably of Celtic origin
pron.
used with a sing. or pl. verb
Used to indicate the one or ones belonging to me: The green gloves are mine. If you can't find your hat, take mine.
adjective
A possessive form of
I
1
Archaic
Used instead of my before an initial vowel or the letter h.
Origin of mine
Middle English
from
Old English
mīn
; see
me-
1
in Indo-European roots.
Our Living Language
In Standard English, most possessive pronouns have different forms when used as nouns, or nominals, as in
That book is yours,
than when used as adjectives, as in
That is your book.
The two exceptions are
his
and
its,
which retain the same form in both usages. The nominal forms all end in
-s
except for
mine.
In some Southern US and New England vernacular dialects, all nominal possessive pronouns end in
-n,
just like
mine,
as in
That book is hern
(but not "That's hern book") and
Those cookies are ourn.
Although forms such as
hisn
and
hern
are highly socially stigmatized, from a strictly linguistic standpoint these forms reflect a natural phenomenon in the development of all languages and dialects: Irregular patterns tend to be regularized, thereby eliminating exceptions to language "rules." Further,
hisn, hern, ourn, yourn,
and
theirn
have a long history in English. They arose in the Middle English period (c. 1100-1500) by analogy with
mine
and
thine,
forms that are older than
my
and
thy
and that can be traced to Old English (c. 449-1100). Originally,
my
and
thy
were used before nouns beginning with consonant sounds, as in
my book,
while
mine
and
thine
were used before nouns beginning with vowel sounds, as in
mine eyes
—as
a
and
an
still are. This distinction persisted into the 1700s. But as nominal pronouns,
mine
and
thine
remained unchanged. This invariant use of
-n
led to its use for all nominal possessive pronouns (except
its,
which is rarely used nominally, as in
That book is its
). In fact, these
-n
forms may be older than the current standard
-s
forms, which arose late in the Middle English period, by analogy to
his.
Most likely,
hern, ourn, yourn,
and
theirn
originated somewhere in the central area of southern England, since they can still be found throughout many parts of that region. In the United States, the forms appear to be increasingly confined to older speakers in relatively isolated areas, indicating that these features are at last fading from use. In some Southern-based vernacular dialects, particularly African American Vernacular English, the irregular standard English pattern for nominal possessive forms has been regularized by adding
-s
to
mine,
as in
That book is mines.
an
1
---
mine

Usage notes
My and mine are essentially two forms of the same word, with my being used attributively before the noun, and mine being used in all other cases; hence:

No, that's not my car. (attributive use)
That car next to it isn't mine, either. (predicative use)
Mine is the one over there, on the far right. (substantive use)
Mine for only a week so far, it already feels like an old friend. (absolute use)

In archaic use, this word is occasionally used attributively after the noun, in which case the form mine is used:

a1611, William Shakespeare, The Tempest, Act V, Scene 1,

[...] Flesh and blood, / You, brother mine, that entertain'd ambition, / [...]

In the above respects, this word is analogous to most of the other possessive pronouns, as well as a number of other noun modifiers, such as lone/alone.
Historically, my came to be used only before a consonant sound, and later came to be used regardless of the following sound. Nonetheless, mine still sees archaic pre-vocalic use:

1862 February, Julia Ward Howe, "The Battle Hymn of the Republic", in The Atlantic Monthly, Volume IX, Number LII, page 10,

Mine eyes have seen the glory of the coming of the Lord: / [...]
Verb
(third-person singular simple present mines, present participle mining, simple past and past participle mined)
(intransitive) To remove (ore) from the ground.

Crater of Diamonds State Park is the only place in the world where visitors can mine their own diamonds.

To dig into, for ore or metal.
To sow mines (the explosive devices) in (an area).

We had to slow our advance after the enemy mined the road ahead of us.

To damage (a vehicle or ship) with a mine (an explosive device).
(intransitive) To dig a tunnel or hole; to burrow in the earth.

the mining cony

To dig away, or otherwise remove, the substratum or foundation of; to lay a mine under; to sap; to undermine; hence, to ruin or destroy by slow degrees or secret means.
Origin
From Middle English, from Old French mine, from Late Latin mina, from Gaulish *mÄ"nā ("ore, mine"), akin to Welsh mwyn, Irish míanach ("ore").
Noun
(plural mines)
Alternative form of mien.
---