verb
To bury is defined as to place in the ground, cover up or hide.

An example of bury is someone covering a friend with sand after they've fallen asleep on the beach.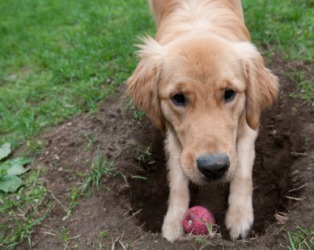 This dog is about to bury his ball.
---
bury definition by Webster's New World
transitive verb
buried, burying
to put (a dead body) into the earth, a tomb, or the sea, usually in a ceremonial manner; inter

to hide (something) in the ground
to cover up so as to conceal: she buried her face in the pillow

to put away, as from one's life, mind, etc.: to bury a feud
to put (oneself) deeply into; plunge; immerse: to bury oneself in one's work
Origin: Middle English birien ; from Old English byrgan, akin to beorgan, to shelter ; from Indo-European base an unverified form bhergh-, protect, preserve from source German bergen, protect, Polish bróg, barn
city in Greater Manchester, NW England: county district pop. 177,000
Webster's New World College Dictionary Copyright © 2010 by Wiley Publishing, Inc., Cleveland, Ohio. Used by arrangement with John Wiley & Sons, Inc.
---
bury definition by American Heritage Dictionary
transitive verb
bur·ied
,
bur·y·ing
,
bur·ies
To place in the ground: bury a bone.

a. To place (a corpse) in a grave, a tomb, or the sea; inter.

b. To dispose of (a corpse) ritualistically by means other than interment or cremation.

To conceal by or as if by covering over with earth; hide: buried her face in the pillow; buried the secret deep within himself.
To occupy (oneself) with deep concentration; absorb: buried myself in my studies.
To put an end to; abandon: buried their quarrel and shook hands.
Origin: Middle English burien, from Old English byrgan; see bhergh-1 in Indo-European roots.
Related Forms:
Word History:
Why does
bury
rhyme with
berry
and not with
jury
? The answer goes back to early English times. The late Old English form of the verb
bury
was
byrgan,
pronounced approximately (bürˈyən). During Middle English times this (ü) sound changed, but with different results in different regions of England: to (o͝o) as in
put
in the Midlands, to (ĭ) as in
pit
in southern England, or to (ĕ) as in
pet
in southeast England. London is located in the East Midlands, but because of its central location and its status as the capital, its East Midlands dialect was influenced by southern (Saxon) and southeastern (Kentish) dialects. The normal East Midlands development of (ü) was (o͝o), spelled
u.
Because scribes from the East Midlands pronounced the word with this vowel they tended to spell the word with a
u,
and this spelling became standard when spellings were fixed after the introduction of printing. The word's pronunciation, however, is southeastern.
Bury
is the only word in Modern English with a Midlands spelling and a southeastern pronunciation. Similarly, the word
busy,
from Old English
bysig, bisig,
and its verb
bysgian, bisgian,
"to employ," is spelled with the East Midlands dialect
u,
but pronounced with the southern (Saxon) development of (ü), (ĭ).
A borough of northwest England north-northwest of Manchester. Population: 60,700.
The American Heritage® Dictionary of the English Language, 4th edition Copyright © 2010 by Houghton Mifflin Harcourt Publishing Company. Published by Houghton Mifflin Harcourt Publishing Company. All rights reserved.
---
bury - Phrases/Idioms
bury the hatchet
To stop fighting; resolve a quarrel.