noun
The definition of a sepulcher is a small room, usually made of stone, where a dead person is buried.

A small stone room at a cemetery that is made of rock or stone in which a king is buried is an example of a sepulcher.
verb
Sepulcher is to serve as a place to lay or bury something.

When a ship sinks and people are dead under the water, this is an example of when the ocean sepulchers.
When old maps are set aside in an attic, this is an example of when the maps are sepulchered in the attic.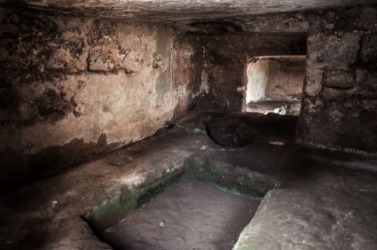 An ancient sepulcher.
---
sepulcher definition by Webster's New World
noun
a vault for burial; grave; tomb

R.C.Ch.

a small, sealed cavity, holding martyrs' relics, in a flat rectangular or square stone forming the top or part of the top of an altar
Origin: Middle English ; from Old French sepulcre ; from Classical Latin sepulcrum ; from sepelire, to bury ; from Indo-European an unverified form sepel-, veneration ; from base an unverified form sep-, to honor from source Sanskrit sápati, (he) cultivates, cherishes
transitive verb
to place in a sepulcher; bury
Webster's New World College Dictionary Copyright © 2010 by Wiley Publishing, Inc., Cleveland, Ohio. Used by arrangement with John Wiley & Sons, Inc.
---
sepulcher definition by American Heritage Dictionary
noun
A burial vault.
A receptacle for sacred relics, especially in an altar.
transitive verb
sep·ul·chered
,
sep·ul·cher·ing
,
sep·ul·chers
To place into a sepulcher; inter.
Origin: Middle English sepulcre, from Old French, from Latin sepulcrum, sepulchrum, from sepultus, past participle of sepelīre, to bury the dead.