tomb

tomb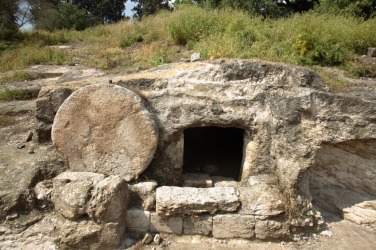 An ancient tomb.
noun
The definition of a tomb is a vault or chamber where dead people are buried.

An example of a tomb is an underground room with coffins.
---
tomb
a vault, chamber, or grave for the dead
a burial monument or cenotaph
Origin of tomb
Middle English
toumbe
from Anglo-French
tumbe
(OFr
tombe
) from Ecclesiastical Late Latin
tumba
from Classical Greek
tymbos
, tomb, funeral mound from Indo-European an unverified form
tu-
, variant, variety of base an unverified form
teu-
, to swell from source thumb, tumor
---
tomb
noun
A grave or other place of burial.
A vault or chamber for burial of the dead.
A monument commemorating the dead.
Origin of tomb
Middle English
from
Old French
tombe
from
Late Latin
tumba
from
Greek
tumbos
; see
teuə-
in Indo-European roots.
---
tomb

Noun
(plural tombs)
A small building ("vault") for the remains of the dead, with walls, a roof, and (if it is to be used for more than one corpse) a door. It may be partly or wholly in the ground (except for its entrance) in a cemetery, or it may be inside a church proper or in its crypt. Single tombs may be permanently sealed; those for families (other groups) have doors for access whenever needed.
A pit in which the dead body of a human being is deposited; a grave.
Verb
(third-person singular simple present tombs, present participle tombing, simple past and past participle tombed)
to bury.
Origin
From Latin tumba from Ancient Greek τύμβος (tumbos, "a sepulchral mound, tomb, grave").
---