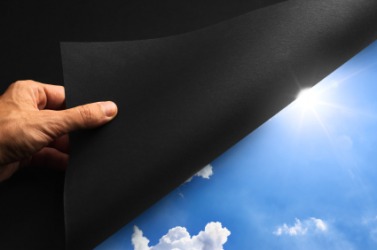 A man uncovers a picture of the sky.
---
uncover
transitive verb
to make known; disclose; reveal
to lay bare or open by removing a covering
to remove the cover or protection from
to remove the hat, cap, etc. from (the head), as a conventional gesture of respect
intransitive verb
to bare the head, as in respect
to remove a cover or coverings
---
uncover
verb
un·cov·ered
,
un·cov·er·ing
,
un·cov·ers
verb
, transitive
To remove the cover from: uncovered the saucepan.
To manifest or disclose; reveal: uncovered new evidence.
To remove the hat from, as in respect or reverence.
verb
, intransitive
To remove a cover.
To bare the head in respect or reverence.
---
uncover
Verb
(third-person singular simple present uncovers, present participle uncovering, simple past and past participle uncovered)
to remove the cover of an object

The model railway was uncovered.

To reveal the identity of

The murderer has finally been uncovered.

To show openly; to disclose; to reveal.
To divest of the hat or cap; to bare the head of.

to uncover oneself
---