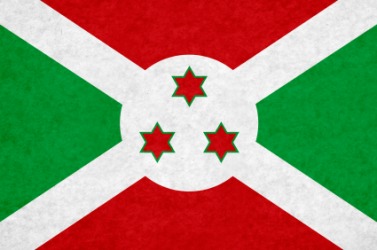 The flag of Burundi.
---
Burundi
country in EC Africa, east of Democratic Republic of the Congo: 10,759 sq mi (27,866 sq km); pop. 5,293,000; cap. Bujumbura
---
Burundi
A country of east-central Africa with a coastline on Lake Tanganyika. It was inhabited originally by the Twa, a Pygmy people, and later also by Hutus and Tutsis, the latter gaining political and economic dominance in the 19th century. The area formed part of German East Africa and later of Belgian-ruled Ruanda-Urundi before it became an independent kingdom in 1962 and was declared a republic in 1966. In the 1970s and again in the 1990s tens of thousands of people were killed in ethnic clashes between Hutus and Tutsis. Bujumbura is the capital and the largest city.
Related Forms:
Bu·run′di·an

adjective

& n.
Burundi
---
Burundi
---