rivet

riv·et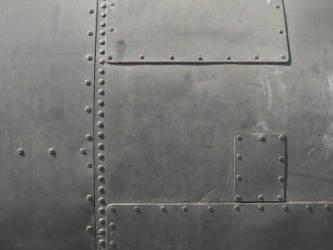 A piece of metal with rivets.
noun
The definition of a rivet is a metal bolt that is hammered to secure pieces together.

An example of a rivet is a metal piece for securing two pieces of metal together.
verb
Rivet is defined as to secure things together, especially with a hammer.

An example of to rivet is to hammer a metal pin through two pieces of metal to to join them together.
---
rivet
a metal bolt or pin with a head on one end, used to fasten plates or beams together by passing it through holes in them and then hammering down the plain end into a head so as to lock it in place
a similar device used to fasten or strengthen seams, as on work clothes
Origin of rivet
Middle English
ryvette
from Middle French
rivet
from
river,
to clinch from uncertain or unknown; perhaps
to fasten with a rivet or rivets
to hammer or spread the end of (a bolt, etc.) into a head, for fastening something
to fasten or secure firmly
to fix or hold (the eyes, attention, etc.) firmly
---
rivet
noun
A metal bolt or pin having a head on one end, inserted through aligned holes in the pieces to be joined and then hammered on the plain end so as to form a second head.
transitive verb
riv·et·ed, riv·et·ing, riv·ets
To fasten or secure, especially with a rivet or rivets.
To hammer and bend or flatten the headless end of (a nail or bolt) so as to fasten something.

a. To fix the attention of (someone): The audience was riveted by the suspense.

b. To engross or hold (the gaze or attention, for example).
Origin of rivet
Middle English
from
Old French
river
to attach
Related Forms:
---
rivet

---