secure

se·cure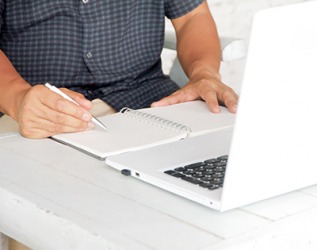 Lloyd does his best to come up with secure passwords that he can remember, however, he writes them down in a notebook just in case.
adjective
The definition of secure is something that is fastened securely. The definition of secure also is being free from danger or loss.

An example of secure is something that has been nailed in place.
An example of secure is the feeling you are get when you are in your house and all the doors are locked.
verb
To secure is to firmly attach something, to take action to make an area safe or to obtain something that you have been seeking.

An example of secure is when you tie something down.
An example of secure is when you lock up your money in a safe to protect it.
An example of secure is when you get hired for a job you've been trying really hard to get.
---
secure
free from fear, care, doubt, or anxiety; not worried, troubled, or apprehensive
free from danger; not exposed to damage, attack, etc.; safe
in safekeeping or custody
not likely to fail or give way; firm; strong; stable: to make a knot secure
reliable; dependable: a secure investment
protected from unauthorized access: a secure phone line

Archaic

overconfident and careless
Origin of secure
Classical Latin
securus
from
se-
, free from, apart (see secede) +
cura
, care: see cure
transitive verb
-·cured′

,

-·cur′ing
to make secure, or safe; guard; protect: to secure a position against attack
to make sure or certain; guarantee; ensure, as with a pledge: to secure a loan with collateral

to make firm, fast, tight, etc.: secure the bolt
to put under restraint; tie up

to get hold or possession of; obtain; acquire: to secure aid
to take into custody; capture
to bring about; cause: to secure a laugh

Naut.

to relieve (personnel) from duty
to bring to a halt; stop
to give security: an insurance policy that secures against loss

Naut.

to stop working: said of personnel
---
secure
adjective
se·cur·er, se·cur·est
Free from danger or attack: a secure fortress.
Free from risk of loss; safe: Her papers were secure in the vault.
Free from the risk of being intercepted or listened to by unauthorized persons: Only one telephone line in the embassy was secure.
Free from fear, anxiety, or doubt: felt secure in his old job.

a. Not likely to fail or give way; stable: a secure stepladder.

b. Firmly fastened: a secure lock.

Reliable; dependable: secure investments.
Assured; certain: With three goals in the first period they had a secure victory, but somehow they lost.
Archaic Careless or overconfident.
transitive verb
se·cured, se·cur·ing, se·cures
To guard from danger or risk of loss: The troops secured the area before the civilians were allowed to return.
To make firm or tight; fasten. See Synonyms at fasten.
To make certain; ensure: The speaker could not secure the goodwill of the audience.

a. To guarantee payment of (a loan, for example).

b. To guarantee payment to (a creditor).

To get possession of; acquire: secured a job.
To capture or confine: They secured the suspect in the squad car.
To bring about; effect: secured release of the hostages.
To protect or ensure the privacy or secrecy of (a telephone line, for example).
Origin of secure
Latin
sēcūrus
sē-
without
; see
s(w)e-
in Indo-European roots.
cūra
care
; see
cure
.
Related Forms:
---
secure

Adjective
(comparative securer or more secure, superlative securest or most secure)
Free from the risk of eavesdropping, interception or discovery; secret.
Confident in opinion; not entertaining, or not having reason to entertain, doubt; certain; sure; commonly used with of.

secure of a welcome

Overconfident; incautious; careless.
Verb
(third-person singular simple present secures, present participle securing, simple past and past participle secured)
To make secure (in all the above senses).

"[Captain] was able to secure some good photographs of the fortress." (Flight, 1911, p. 766)
---