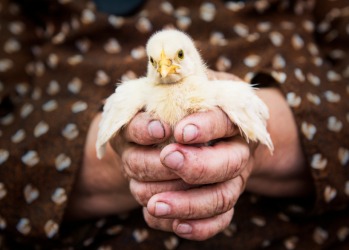 This little chick is very vulnerable.
adjective
The definition of vulnerable is easily hurt or delicate.

An example of vulnerable is an animal with no protection from its prey.
An example of vulnerable is a person who is easily hurt by criticism at work.
An example of vulnerable is a military base with limited defenses.
---
vulnerable
that can be wounded or physically injured

open to criticism or attack: a vulnerable reputation
easily hurt, as by adverse criticism; sensitive
affected by a specified influence, temptation, etc.: vulnerable to political pressure

open to attack by armed forces: often used fig.

Bridge

designating a team that has won one game in an ongoing rubber and hence is liable to increased penalties
Origin of vulnerable
Late Latin
vulnerabilis,
wounding, likely to injure (also, in passive voice sense, "vulnerable") from Classical Latin
vulnerare,
to wound from
vulnus
(gen.
vulneris
), a wound from Indo-European base an unverified form
wel-
from source Classical Latin
vellere:
see revulsion
---
vulnerable
adjective
a. Susceptible to physical harm or damage: trees that are vulnerable to insects;

b. Susceptible to emotional injury, especially in being easily hurt: a lonely child who is vulnerable to teasing.

c. Susceptible to attack: "We are vulnerable both by water and land, without either fleet or army" ( Alexander Hamilton )

d. Open to censure or criticism; assailable: The mayor is vulnerable to criticism on the issue.

Games In a position to receive greater penalties or bonuses in a hand of bridge. In a rubber, used of the pair of players who score 100 points toward game.
Origin of vulnerable
Late Latin
vulnerābilis
wounding
from
Latin
vulnerāre
to wound
from
vulnus
vulner-
wound
; see
welə-
in Indo-European roots.
Related Forms:
vul′ner·a·bil′i·ty vul′ner·a·ble·ness

noun
---
vulnerable

Adjective
(comparative more vulnerable, superlative most vulnerable)
More or most likely to be exposed to the chance of being attacked or harmed, either physically or emotionally.

"You are vulnerable to be bullied by someone at school."

(computing) More likely to be exposed to malicious programs or viruses.

a vulnerable PC with no antivirus software
Origin
From Late Latin vulnerābilis ("injurious, wounding"), from Latin vulnerō ("I wound").
---