adjective
The definition of vulnerable is easily hurt or delicate.

An example of vulnerable is an animal with no protection from its prey.
An example of vulnerable is a person who is easily hurt by criticism at work.
An example of vulnerable is a military base with limited defenses.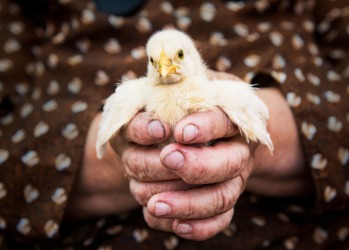 This little chick is very vulnerable.
---
vulnerable definition by Webster's New World
adjective
that can be wounded or physically injured

open to criticism or attack: a vulnerable reputation
easily hurt, as by adverse criticism; sensitive
affected by a specified influence, temptation, etc.: vulnerable to political pressure

open to attack by armed forces

Bridge

liable to increased penalties and entitled to increased bonuses: said of a team which has won one game
Origin: Late Latin vulnerabilis, wounding, likely to injure (also, in passive voice sense, vulnerable) ; from Classical Latin vulnerare, to wound ; from vulnus (gen. vulneris), a wound ; from Indo-European base an unverified form wel- from source Classical Latin vellere: see revulsion
Webster's New World College Dictionary Copyright © 2010 by Wiley Publishing, Inc., Cleveland, Ohio. Used by arrangement with John Wiley & Sons, Inc.
---
vulnerable definition by American Heritage Dictionary
adjective
a. Susceptible to physical or emotional injury.

b. Susceptible to attack: "We are vulnerable both by water and land, without either fleet or army" (Alexander Hamilton).

c. Open to censure or criticism; assailable.

a. Liable to succumb, as to persuasion or temptation.

b. Games In a position to receive greater penalties or bonuses in a hand of bridge. In a rubber, used of the pair of players who score 100 points toward game.
Origin: Late Latin vulnerābilis, wounding, from Latin vulnerāre, to wound, from vulnus, vulner-, wound; see welə- in Indo-European roots.
Related Forms:
vulˌner·a·bilˈi·ty, vulˈner·a·ble·ness

noun