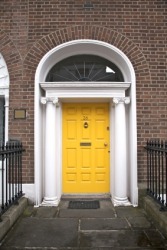 A closed door.
---
closed
adjective
not open; shut: a closed door
covered over or enclosed: a closed wagon
functioning independently; self-sufficient: a closed economic system
not receptive to new or different ideas: a closed mind
not open to further analysis or debate: a closed question
restricted to certain individuals; exclusive: a closed society

Math.

of or pertaining to a curve with no end points
of a surface whose plane sections are closed curves
of a set in which an operation on pairs of its elements always produces an element of the set
of a set of points containing all its limit points, as the set of points on and within a circle: complementary to an open set

Phonet.

ending in a consonant sound: said of a syllable

Sports

designating a stance, as of a golfer or a batter in baseball, in which the front foot is closer than the rear to an imaginary straight line, as one joining tee and green or one joining home plate and second base
---
closed
adjective
Having boundaries; enclosed: a closed corridor between the two buildings.
Blocked or barred to passage or entry: a closed port.
Explicitly limited; restricted: closed membership.
Self-contained or self-sufficient: a closed relationship.
Barred to the public; conducted in secrecy: a closed session of the judiciary committee.
Mathematics

a. Of or relating to a curve, such as a circle, having no endpoints.

b. Of or relating to a surface having no boundary curves.

c. Of or relating to an interval containing both its endpoints.

d. Characterized by or possessing the property by which an operation acting on an element in a set produces an element within the set.

Computers Of or relating to a file that cannot be accessed.
Electricity Allowing electricity to flow or pass: a closed switch.
Linguistics Ending in a consonant: a closed syllable.
Sports

a. Having the forward foot closer to the intended point of impact with the ball than the rear foot: a closed batting stance.

b. Held or swung with the top or outer edge of the striking face pointing slightly closer to the objective than the lower or inner edge: The club face was closed when it hit the ball, causing a hook.

Physics

a. Of or relating to a closed system.

b. Of or relating to a closed universe.
---
closed
Adjective
(not comparable)
Sealed, made inaccessible or impassable; not open
(of a store or business) Not operating or conducting trade
Not public.

closed source
a closed committee

(topology, of a set) Having an open complement.
(mathematics, of a set) Such that its image under the specified operation is contained in it.

The set of integers is closed under addition: .
Verb
simple past tense and past participle of close
---
closed - Computer Definition
---
closed
Variant of close
adjective
closer, closest
shut; not open enclosed or enclosing; shut in confined or confining; narrow: close quarters carefully guarded: close custody shut away from observation; hidden; secluded secretive; reserved; reticent miserly; stingy restricted, as in membership oppressively warm and stuffy: said of the weather, atmosphere, etc. not readily available: credit is close

Phonet.

articulated with the tongue relatively high in the mouth, near the palate: said of certain vowels, as the (ē) in eat
with little space between; with the intervening space closing or closed up; near together having parts or elements near together; compact; dense: close marching order, close weave fitting tightly: a close coat

down or near to the surface on which something grows; very short: a close shave
not far away; nearby: a close neighbor

near in interests, affection, etc.; intimate; familiar: a close friend varying little from the original or model: a close translation strict; thorough; careful: a close search compactly expressed; concise: a close description accurate; logical; precise: close reasoning nearly equal or alike: close in age difficult to resolve or uncertain in outcome: a close decision
Origin of close
Middle English
clos
; from Old French ; from Classical Latin
clausus
, past participle of
claudere
(see close); senses under II from notion "with spaces or intervals closed up"
close to the wind
Naut.

heading as closely as possible in the direction from which the wind is blowing
barely avoiding what is unlawful