running

run·ning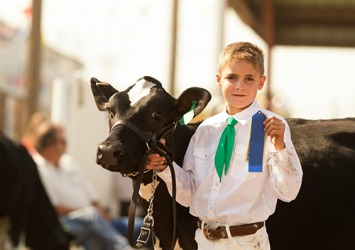 Garrett has won the first place award for three years running at the county fair in the dairy heifer category.
adjective
The definition of running is moving, flowing or operating.

An example of something running is a train that is operating.
adverb
Running is defined as done consecutively.

An example of running used as an adverb is in the phrase "for seven years running," which means going on for seven years in a row.
noun
Running means the act of racing or managing, or the condition of a track for racing.

An example of running is being in charge of a church festival.
An example of running is the state of a racetrack before a big race.
---
running
the act of a person or thing that runs (in various senses); racing, managing, proceeding, etc.
the condition of a track with reference to its use in a race

that which runs, or flows
the amount or quantity that runs
moving, passing, or advancing rapidly

run at a rapid gait: a running race
trained to race at this gait: said of a horse

flowing: running water
cursive: said of handwriting
melting; becoming liquid or fluid
discharging liquid; esp., discharging pus, etc.: a running sore
creeping or climbing: said of plants
going, or in operation, as machinery
in a straight line; linear: said of measurement: a running foot
going on, extending, etc. without interruption; continuous: a running commentary, a running pattern
prevalent: running costs
in progress; current: a running account
concurrent; simultaneous: a running translation
moving or going easily or smoothly
moving when pulled, as a rope
done in a run with a running start: a running jump
of the normal run (of a train, bus, etc.): running time
of or appropriate for running for exercise or sport: a running shoe
in succession; consecutively: for five days running
in (or out of) the running
in (or out of) the competition; having a (or no) chance to win
---
running
noun
The act or an instance of running.
The power or ability to run.
Sports The exercise or sport of someone who runs.
adjective
Ongoing over a period of time: a running conversation; a running joke among us.
Set in continuous or unbroken lines: running text.
Printed at the top or bottom of every page or every other page: a running title; a running footer.
adverb
In a consecutive way: four years running.
---
running

---