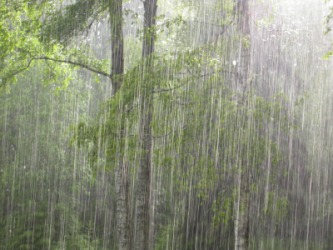 Trees being battered by a driving rain.
---
driving definition by Webster's New World
adjective
transmitting force or motion
moving with force and violence: a driving rain
vigorous; energetic: a driving jazz solo
noun
the way one drives an automobile, etc.
Webster's New World College Dictionary Copyright © 2010 by Wiley Publishing, Inc., Cleveland, Ohio. Used by arrangement with John Wiley & Sons, Inc.
---
driving definition by American Heritage Dictionary
adjective
Transmitting power or motion.
Violent, intense, or forceful: a driving rain.
Energetic or active: a driving personality.
Related Forms:
driving
Variant of drive
transitive verb
drove, driven, driving
to force to go; urge onward; push forward
to force into or from a state or act: driven mad
to force to work, usually to excess

to force by or as by a blow, thrust, or stroke
to throw, hit, or cast hard and swiftly

Golf

to hit from the tee, usually with a driver

to cause to go through; make penetrate
to make or produce by penetrating: to drive a hole through metal
to control the movement or direct the course of (an automobile, horse and wagon, locomotive, etc.)
to transport in an automobile or other vehicle

to impel or propel as motive power; set or keep going; cause to function: a gasoline engine drives the motorboat
to compel, motivate, influence, direct, etc.: the investigation is driven by political rivalry

to carry on with vigor; push (a bargain, etc.) through

Hunting

to chase (game) from thickets into the clear or into nets, traps, etc.
to cover (an area) in this way
Origin: Middle English driven ; from Old English drifan, akin to Gothic dreiban, German treiben, Old Norse drīfa ; from Indo-European base an unverified form dhreibh-, to push
intransitive verb
to advance violently; dash
to work or try hard, as to reach a goal
to drive a blow, ball, missile, etc.
to be driven; operate: said of a motor vehicle
to go or be conveyed in a vehicle
to operate a motor vehicle
noun
the act of driving
a trip in a vehicle

a road for automobiles, etc.
a driveway

☆

a rounding up or moving of animals on foot for branding, slaughter, etc.
the animals rounded up or moved

a hard, swift blow, thrust, etc., as of a ball in a game

Golf

a shot from the tee, usually with a driver

☆

an organized movement to achieve some purpose; campaign
a large-scale military offensive to gain an objective

Football

a series of plays that advances the ball toward the opponent's goal, usually resulting in a field goal or touchdown

☆ the power or energy to get things done; enthusiastic or aggressive vigor
that which is urgent or pressing; pressure
☆ a collection of logs being floated down a river to a sawmill

any apparatus that transmits power in a motor vehicle: a gear drive
that arrangement in an automatic transmission of a motor vehicle which allows movement forward at varying speeds

a device that communicates motion to a machine or machine part

Comput.

a unit that reads and writes data on magnetic tape, a disk, etc.

Psychol.

any of the basic biological impulses or urges, such as self-preservation, hunger, sex, etc.