brisk

brisk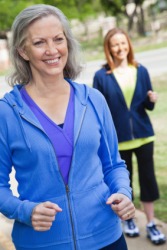 Two women out for a brisk walk.
adjective
The definition of brisk is chilly weather or something energetic, lively and fast-paced.

An example of something that would be described as brisk is a chilly fall day.
An example of something that would be described as brisk is a fast walk.
---
brisk
quick in manner or movement; energetic: a brisk pace
cool, dry, and bracing: brisk air
pungent, keen, sharp, etc.: a brisk taste, a brisk tone of voice
active; busy: brisk trading
Origin of brisk
from uncertain or unknown; perhaps French
brusque,
brusque
---
brisk
adjective
brisk·er, brisk·est
Marked by speed, liveliness, and vigor; energetic: had a brisk walk in the park.
Keen or sharp in speech or manner: a brisk greeting.
Stimulating and invigorating: a brisk wind.
Pleasantly zestful: a brisk tea.
Origin of brisk
Probably of Scandinavian origin
Related Forms:
---
brisk

Adjective
(comparative brisker or more brisk, superlative briskest or most brisk)
Full of liveliness and activity; characterized by quickness of motion or action; lively; spirited; quick.

We took a brisk walk yesterday.

Full of spirit of life; effervescing, as liquors; sparkling; as, brisk cider.
Stimulating or invigorating.

This morning was a brisk fall day. It wasn't cold enough for frost, but you wanted to keep moving.

Abrupt, curt in one's manner or in relation to others.
Verb
(third-person singular simple present brisks, present participle brisking, simple past and past participle brisked)
---