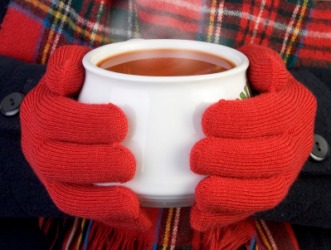 A girl uses a cup of soup to warm her hands.
adjective
The definition of warm is having a moderate amount of heat, or someone who is friendly and sincere.

An example of something warm is a bowl of soup that has been off the stove for a few minutes.
An example of a warm person is someone who provide care and concern to a family after a major loss.
verb
To warm is defined as to raise the temperature a bit.

An example of to warm is to turn the heat on.
---
warm
having or giving off a moderate degree of heat: a warm iron, warm coffee
giving off pleasurable heat: a warm fire
uncomfortably warm; hot: a warm night

having the natural heat of living beings: said of the body, blood, etc.

heated or overheated, as with exercise or hard work
such as to make one heated or overheated: warm exercise, work, etc.

effective in keeping body heat in: warm clothing
characterized by lively disagreement: said of argument or controversy
fervent; ardent; enthusiastic: warm encouragement
lively, vigorous, brisk, or animated
quick to anger; irascible; heated

genial; cordial: a warm welcome
sincere; grateful: warm thanks
sympathetic, affectionate, or loving
passionate; amorous

suggesting warmth; having yellow, orange, or red hue: said of colors
newly made; fresh; strong: said of a scent or trail

Informal

close to discovering something; on the verge of guessing or finding, as in games

Informal

disagreeable; uncomfortable: to make things warm for someone
Origin of warm
Middle English from Old English
wearm
, akin to German
warm
from Indo-European base an unverified form
gwher-
, hot from source Classical Greek
therm?
, heat,
thermos
, warm,
theros
, summer, Classical Latin
formus
, warm,
fornax
, furnace
to make warm; raise the temperature of to a moderate extent
to make excited, animated, ardent, enthusiastic, lively, etc.
to fill with pleasant or kindly emotions: a sight to warm the heart
Origin of warm
ME
warmen
< OE
wearmian
to become warm
to become friendly, kindly, affectionate, or sympathetic (to, toward, or up to)
to become excited, ardent, enthusiastic, lively, etc.: often with to
to feel a glow of pleasure; bask
Informal
a warming or being warmed
warm up
to heat or be heated; make or become warm
to make or become sufficiently warm to operate effectively or efficiently: to warm up an engine

to reheat (cooked food, etc.)
to make or become more animated, excited, ardent, lively, etc.
to practice, exercise, or limber up awhile in preparation for going into a game, contest, performance, etc.
---
warm
adjective
warm·er, warm·est
Somewhat hotter than temperate; having or producing a comfortable and agreeable degree of heat; moderately hot: a warm climate.
Having the natural heat of living beings: a warm body.
Preserving or imparting heat: a warm jacket.
Having or causing a sensation of unusually high body heat, as from exercise or hard work; overheated.
Marked by enthusiasm; ardent: warm support.
Characterized by liveliness, excitement, or disagreement; heated: a warm debate.
Marked by or revealing friendliness or sincerity; cordial: warm greetings.
Loving; passionate: a warm embrace.
Excitable, impetuous, or quick to be aroused: a warm temper.
Predominantly red or yellow in tone: a warm sunset.
Recently made; fresh: a warm trail.
Close to discovering, guessing, or finding something, as in certain games.
Informal Uncomfortable because of danger or annoyance: Things are warm for the bookies.
verb
warmed, warm·ing, warms
verb
transitive
To raise slightly in temperature; make warm: warmed the rolls a bit more; warm up the house.
To make zealous or ardent; enliven.
To fill with pleasant emotions: We were warmed by the sight of home.
verb
intransitive
To become warm: The rolls are warming in the oven.
To become ardent, enthusiastic, or animated: began to warm to the subject.
To become kindly disposed or friendly: She felt the audience warming to her.
noun
Informal
A warming or heating.
Phrasal Verbs:
warm up
To prepare for an athletic event by exercising, stretching, or practicing for a short time beforehand.To make or become ready for an event or operation.To make more enthusiastic, excited, or animated.To approach a state of confrontation or violence.
Origin of warm
Middle English
from
Old English
wearm
Related Forms:
---
warm

Adjective
(comparative warmer, superlative warmest)
Having a temperature slightly higher than usual, but still pleasant; mildly hot.

The tea is still warm.
This is a very warm room.

Having a color in the red-orange-yellow part of the visible electromagnetic spectrum.
Close, often used in the context of a game in which "warm" and "cold" are used to indicate nearness to the goal.
(archaic) Being well off as to property, or in good circumstances; rich.
Origin
From Middle English warm, werm, from Old English wearm, from Proto-Germanic *warmaz, with different proposed origins:
Proto-Indo-European *gʷʰer- (warm, hot), related to Ancient Greek θερμός (thermos), Latin formus, Sanskrit घर्म (gharma).
Proto-Indo-European *wer- (to burn), related to Hittite (warnuzi) [Cuneiform?] and to Old Church Slavonic варити (variti).
The dispute is due to differing opinions on how initial Proto-Indo-European *gÊ·Ê°- evolved in Germanic: some think that *gÊ·Ê° would have turned to *b, and that the root *gÊ·Ê°er- would instead have given rise to burn etc. Some have also proposed a merger of the two roots.
The term is cognate with West Frisian waarm, Dutch/German/Low German warm, Danish/Norwegian/Swedish varm and Icelandic varmur.
Verb
(third-person singular simple present warms, present participle warming, simple past and past participle warmed)
To make or keep warm.
(intransitive) To become warm, to heat up.

My socks are warming by the fire.
The earth soon warms on a clear summer day.

(intransitive) To favour increasingly.

He is warming to the idea.
Her classmates are gradually warming to her.

To make engaged or earnest; to interest; to engage; to excite ardor or zeal; to enliven.
Noun
(plural warms)
(colloquial) The act of warming, or the state of being warmed; a heating.

Shall I give your coffee a warm in the microwave?
Origin
From Old English werman
---