temperature
tem·per·a·ture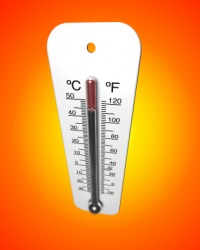 A thermometer measures temperature.
noun
Temperature is the amount of heat in a given area, or the amount of internal heat in a person's body.

Facts About Temperature

The highest temperatures ever recorded was 136 Fahrenheit in El Azizia, Libya.
The lowest temperatures ever recorded was -129 Fahrenheit in Vostok, Antarctica.

When it is 54 degrees outside, 54 degrees is an example of temperature.
When your body is at 98.6 degrees, this is an example of a normal body temperature.
---
temperature
a measure of the quantity of heat in an object, usually as measured on a thermometer; specif.,

the degree of heat of a living body
an excess of this over the normal (c. 37°C or c. 98.6°F in humans); fever
the degree of heat of the atmosphere

Obs.

temperament
Origin of temperature
Classical Latin
temperatura
from
temperatus,
temperate
---
temperature
noun
a. The degree of hotness or coldness of a body or environment.

b. A measure of the average kinetic energy of the particles in a sample of matter, expressed in terms of units or degrees designated on a standard scale.

a. The degree of heat in the body of a living organism, usually about 37.0°C (98.6°F) in humans.

b. An abnormally high condition of body heat caused by illness; a fever.
Origin of temperature
Middle English
temperate weather
Latin
temperātūra
due measure
from
temperātus
past participle of
temperāre
to mix
; see
temper
.
---
temperature

Noun
(plural temperatures)
(now rare, archaic) The balance of humours in the body, or one's character or outlook as considered determined from this; temperament.
A measure of cold or heat, often measurable with a thermometer.

The boiling temperature of pure water is 100 degrees Celsius.

An elevated body temperature, as present in fever and many illnesses.

You have a temperature; I think you should stay home today. You're sick.

(when not used in relation with something) The temperature(1) of the immediate environment.

The temperature dropped nearly 20 degrees; it went from hot to cold.

(thermodynamics) A property of macroscopic amounts of matter that serves to gauge the average intensity of the random actual motions of the individually mobile particulate constituents.
---