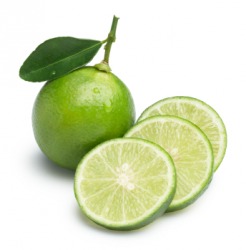 A lime is acerbic.
adjective
The definition of acerbic is a tart or bitter taste.

An example of something that is acerbic is a lime.

Acerbic is defined as language or actions which are hostile or sharp.

An example of being acerbic is when someone's tone of voice is harsh.
---
acerbic
sour in taste
sharp, bitter, or harsh in temper, language, etc.
Origin of acerbic
French
acerbe
; from Classical Latin
acerbus
: see acerbity
---
acerbic
also a·cerb
adjective
Sour or bitter tasting; acid. See Synonyms at bitter, sour.
Sharp or biting, as in character or expression: "At times, the playwright allows an acerbic tone to pierce through otherwise arid or flowery prose" (Alvin Klein).
Origin of acerbic
From Latin
acerbus
; see
ak-
in Indo-European roots.
Related Forms:
---
acerbic
Adjective
(comparative more acerbic, superlative most acerbic)
Origin
Attested since the 17th century, from Latin acerbus ("sour, bitter").
---