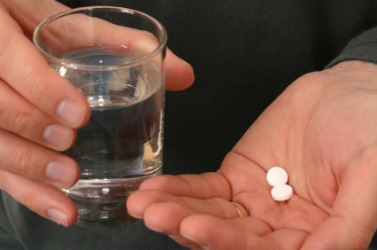 Aspirin has a bitter taste.
adjective
The definition of bitter is having a harsh and disagreeable taste or something that is hard to bear.

An example of bitter is the taste of an aspirin.
An example of bitter is very cold weather.
noun
Bitter is defined as the quality of being harsh.

An example of bitter is weather with cold, wet wind.
---
bitter
designating or having a sharp, often unpleasant taste; acrid, as quinine or peach stones
causing or showing sorrow, discomfort, or pain; grievous
sharp and disagreeable; harsh; severe; piercing: a bitter wind
characterized by strong feelings of hatred, resentment, cynicism, etc.
Origin of bitter
Middle English from Old English
biter
, akin to
b?tan,
bite
in a way that is bitter; bitterly
extremely: it was bitter cold
a bitter quality or thing: take the bitter with the sweet

Brit.

bitter, strongly hopped ale
---
bitter
adjective
bit·ter·er, bit·ter·est
Having or being a taste that is sharp, acrid, and unpleasant.
Causing a sharply unpleasant, painful, or stinging sensation; harsh: enveloped in bitter cold; a bitter wind.
Difficult or distasteful to accept, admit, or bear: the bitter truth; bitter sorrow.
Proceeding from or exhibiting strong animosity: a bitter struggle; bitter foes.
Resulting from or expressive of severe grief, anguish, or disappointment: cried bitter tears.
Marked by resentment or cynicism: "He was already a bitter elderly man with a gray face" ( John Dos Passos )
adverb
In an intense or harsh way; bitterly: a bitter cold night.
transitive verb
bit·tered, bit·ter·ing, bit·ters
To make bitter.
noun
That which is bitter: "all words … / Failing to give the bitter of the sweet" ( Tennyson )
bitters A bitter, usually alcoholic liquid made with herbs or roots and used in cocktails or as a tonic.
Chiefly British A sharp-tasting beer made with hops.
Origin of bitter
Middle English
from
Old English; see
bheid-
in Indo-European roots.
Related Forms:
---
bitter

Adjective
(comparative bitterer or more bitter, superlative bitterest or most bitter)
Usage notes
The one-word comparative form bitterer and superlative form bitterest exist, but are less common than their two-word counterparts more bitter and most bitter.
Noun
(plural bitters)
(usually in the plural bitters) A liquid or powder, made from bitter herbs, used in mixed drinks or as a tonic.
Verb
(third-person singular simple present bitters, present participle bittering, simple past and past participle bittered)
To make bitter.
Origin
From Middle English, from Old English biter, bitter, from Proto-Germanic *bitraz. Compare West Frisian bitter, Dutch bitter, Low German bitter, German bitter, Icelandic bitur.
---