noun
The definition of tea is an evergreen plant grown in some Asian countries, India and in the Eastern United States, or dried leaves or herbs made into a beverage by brewing in boiled water.

An example of tea is Darjeeling black.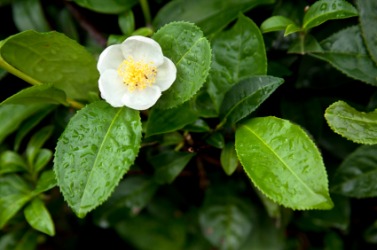 A flowering tea plant.
---
tea
noun
a white-flowered, evergreen plant (Camellia sinensis) of the tea family, grown in China, India, Japan, etc.
its dried and prepared leaves, used to make a beverage
the beverage made by soaking such leaves in boiling water
any of several plants resembling or used as tea
a tealike beverage made from such a plant or from a meat extract: mint tea, beef tea

Brit.

a light meal, esp. in the late afternoon, at which tea is the usual beverage
a more substantial, early evening meal that is often the main meal of the day (in Britain usually called high tea)

a reception or other social gathering in the afternoon, at which tea, coffee, etc. are served
☆

Slang

marijuana
Origin of tea
Amoy Chinese
t'e
(Mandarin
ch'a
)
adjective
designating a family (Theaceae, order Theales) of evergreen dicotyledonous trees, shrubs, or vines, often with showy flowers, found in warm regions and including the camellias and loblolly bay
---
tea
noun
a. An evergreen shrub or small tree (Camellia sinensis) native to Asia, having fragrant, nodding, cup-shaped white flowers and glossy leaves.

b. The young, dried leaves of this plant, prepared by various processes and used to make a beverage, usually served hot.

An aromatic, slightly bitter beverage made by steeping tea leaves in boiling water.
Any of various plants, such as New Jersey tea, having leaves that are or were formerly used to make a tealike beverage.
Any of various beverages made by steeping the leaves of certain plants, such as peppermint.
Any of various beverages made by extracting an infusion from meat, especially beef.
A tea rose.
Chiefly British

a. An afternoon refreshment consisting usually of sandwiches and cakes served with tea.

b. High tea.

An afternoon reception or social gathering at which tea is served.
Slang Marijuana.
Origin of tea
Probably Dutch
thee
, from Malay
teh
, from Amoy
te
(equivalent to Mandarin
chá
), from dialectal Early Middle Chinese
da&istroke;
; akin to Middle Chinese
dr&egr;&tricolon;
(source of Mandarin
chá
,
tea
); see
chanoyu
.
Word History:
"Here thou, great Anna! whom three realms obey, / Dost sometimes counsel take—and sometimes tea."
When Alexander Pope wrote these lines from
The Rape of the Lock
in 1714,
tea
still rhymed with
obey.
This was true of many words spelled with
ea,
and it was just about in Pope's time that nearly all these words started changing their pronunciation from (ā) to (ē), as in our modern pronunciation of
tea
(tē). Most modern English words whose main vowel sound is spelled
-ea-
were pronounced with long vowels in Middle and Old English. Many of these vowels were shortened in the 1500s and 1600s to their modern pronunciations, as in our words
dead
and
sweat.
But those words that were pronounced with an (ā) sound in Middle English did not undergo this sound change and kept their long vowels, undergoing the further change in Pope's time to the modern "long e" sound. There were several exceptions to this last sound change, most notably the words
break, great,
and
steak.
Interestingly, the old pronunciation is also retained in Irish family names, such as
Reagan, Shea, Beatty,
and
Yeats
(in contrast to British family names such as
Keats
).
---
tea
---
tea - Computer Definition
(Tiny Encryption Algorithm) A secret key cryptography method that uses a 128-bit key. It uses the block cipher method, which breaks the text into 64-bit blocks before encrypting them. Written by David Wheeler and Roger Needham of Cambridge Computer Laboratory in the U.K., it is available in 16 round and 32 round versions. The more rounds (iterations), the more secure the results. See encryption algorithm.
---