tea

tea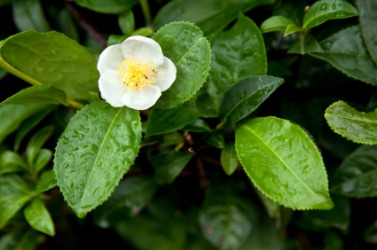 A flowering tea plant.
noun
The definition of tea is an evergreen plant grown in some Asian countries, India and in the Eastern United States, or dried leaves or herbs made into a beverage by brewing in boiled water.

An example of tea is Darjeeling black.
---
tea
a white-flowered, evergreen plant (Camellia sinensis) of the tea family, grown in China, India, Japan, etc.
its dried and prepared leaves, used to make a beverage
the beverage made by soaking such leaves in boiling water
any of several plants resembling or used as tea
a tealike beverage made from such a plant or from a meat extract: mint tea, beef tea

Brit.

a light meal, esp. in the late afternoon, at which tea is the usual beverage
a more substantial, early evening meal that is often the main meal of the day (in Britain usually called high tea)

a reception or other social gathering in the afternoon, at which tea, coffee, etc. are served

Slang

marijuana
Origin of tea
Amoy Chinese
t'e
(Mandarin
ch'a
)
designating a family (Theaceae, order Theales) of evergreen dicotyledonous trees, shrubs, or vines, often with showy flowers, found in warm regions and including the camellias and loblolly bay
---
tea
noun
a. An evergreen shrub or small tree (Camellia sinensis) native to Asia, having fragrant, nodding, cup-shaped white flowers and glossy leaves.

b. The young, dried leaves of this plant, prepared by various processes and used to make a beverage, usually served hot.

An aromatic, slightly bitter beverage made by steeping tea leaves in boiling water.
Any of various plants, such as New Jersey tea, having leaves that are or were formerly used to make a tealike beverage.
Any of various beverages made by steeping the leaves, flowers, fruits, or other parts of certain plants: herbal tea; peppermint tea.
Any of various beverages made by extracting an infusion from meat, especially beef.
A tea rose.
Chiefly British

a. An afternoon refreshment consisting usually of sandwiches and cakes served with tea.

b. High tea.

An afternoon reception or social gathering at which tea is served.
Slang Marijuana.
Origin of tea
Probably
Dutch
thee
from
Malay
teh
from
Amoy
te
(
equivalent to
Mandarin
chá
)
from
dialectal Early Middle Chinese
da&istroke;
akin to
Middle Chinese
drε&tricolon;
(
source of
Mandarin
chá
tea
); see
chanoyu
.
Word History:
"Here thou, great Anna! whom three realms obey, / Dost sometimes counsel take—and sometimes tea."
When Alexander Pope wrote these lines from
The Rape of the Lock
in 1714,
tea
still rhymed with
obey.
This was true of many words spelled with
ea,
and it was just about in Pope's time that nearly all these words started changing their pronunciation from (ā) to (ē), as in our modern pronunciation of
tea
(tē). Most modern English words whose main vowel sound is spelled
-ea-
were pronounced with long vowels in Middle and Old English. Many of these vowels were shortened in the 1500s and 1600s to their modern pronunciations, as in our words
dead
and
sweat.
But those words that were pronounced with an (ā) sound in Middle English did not undergo this sound change and kept their long vowels, undergoing the further change in Pope's time to the modern "long e" sound. There were several exceptions to this last sound change, most notably the words
break, great,
and
steak.
Interestingly, the old pronunciation is also retained in Irish family names, such as
Reagan, Shea, Beatty,
and
Yeats
(in contrast to British family names such as
Keats
).
---
tea

Noun
(countable and uncountable, plural teas)
(uncountable) The dried leaves or buds of the tea plant, Camellia sinensis.

Go to the supermarket and buy some tea.

(uncountable) The drink made by infusing these dried leaves or buds in hot water.

Would you like some tea?

(countable) A variety of the tea plant.

Darjeeling is a tea from India.

(uncountable) By extension, any drink made by infusing parts of various other plants.

camomile tea;  mint tea

(countable, Australia, UK, Canada, New Zealand, northern US) A cup of any one of these drinks, often with a small amount of milk or cream added and sweetened with sugar or honey.
(countable, southern US) A glass of iced tea, typically served with ice cubes and sometimes with a slice or wedge of lemon.
(uncountable, UK) A light meal eaten mid-afternoon, typically with tea.

Kids, your tea's on the table!

(uncountable, New Zealand, UK, Australia) The main evening meal, irrespective of whether tea is drunk with it.

The family were sitting round the table, having their tea.

(cricket) The break in play between the second and third sessions.

Australia were 490 for 7 at tea on the second day.

(slang, dated) Marijuana.
Usage notes
In many places tea is assumed to mean hot tea, while in the southern United States, it is assumed to mean iced tea.
Verb
(third-person singular simple present teas, present participle teaing, simple past and past participle teaed)
To drink tea.
To take afternoon tea (the light meal).
Origin
Circa 1650, from Dutch thee, from Min Nan 茶 (tê) (Amoy dialect), from Proto-Min, from Old Chinese, ultimately from Proto-Sino-Tibetan *s-la ("leaf, tea").
Introduced to English and other Western European languages by the Dutch East India Company, who sourced their tea in Amoy; compare Malay teh along the same trade route. Ultimately cognate to chai, from same Proto-Sino-Tibetan root; see discussion of cognates.
The word for "tea" in many languages is of Sinitic origin (due to China being the origin of the plant), and thus there are many cognates; see translations. These are from one of two proximate sources. The word for tea in modern Min Nan is tê and in Mandarin is chá (both written as 茶); this divide dates to Proto-Min/Middle Chinese, though the two terms share the same Proto-Sino-Tibetan root. Different languages borrowed one or the other form (specific language and point in time varied), reflecting trade ties, generally southern Chinese tê if by ocean trade from China, or northern Chinese chá if by overland trade or by ocean trade from India.
Thus Western and Northern European languages borrowed tê (with the exception of Portuguese, which uses chá; despite being by ocean trade, their source was in Macao, not Amoy), while chá borrowings are used over a very large geographical area of Eurasia and Africa: Southern and Eastern Europe, and on through Turkish, Arabic, North and East Africa, Persian, Central Asian, and Indic languages. In Europe the tê/chá line is Italian/Slovene, Hungarian/Romanian, German/Czech, Polish/Ukrainian, Baltics/Russian. tê was also borrowed in European trade stops in Southern India and coastal Africa, though chá borrowings are otherwise more prevalent in these regions, via Arabic or Indic, due to earlier trade. The situation in Southeast Asia is complex due to multiple influences, and some languages borrowed both forms, such as Malay teh and ca.
Proper noun
A city in South Dakota
---
tea - Computer Definition
(Tiny Encryption Algorithm) A secret key cryptography method that uses a 128-bit key. It uses the block cipher method, which breaks the text into 64-bit blocks before encrypting them. Written by David Wheeler and Roger Needham of Cambridge Computer Laboratory in the U.K., it is available in 16 round and 32 round versions. The more rounds (iterations), the more secure the results. See encryption algorithm.
---