refreshment

re·fresh·ment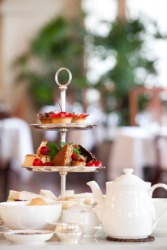 Delicious refreshments of tea and cakes.
noun
Refreshment is something you eat, drink, or do to make yourself feel more energetic or stronger.

An example of refreshment is having a cup of tea during a break at a conference.
---
refreshment
a refreshing or being refreshed
something that refreshes, as food, drink, or rest
[pl.] food or drink or both, esp. as a light meal
Origin of refreshment
Middle English
refreshement
from Middle French
refreschement
---
refreshment
noun
The act of refreshing or the state of being refreshed.
Something, such as food or drink, that refreshes.
often refreshments A snack, light meal, or drink.
---
refreshment

Origin
Recorded since 1665; either directly or via refreschement, from Old French refrescher (12th century; modern rafraîchir), itself from re- "again" + fresche "fresh" (Modern French frais; from a Germanic source, cognate with Old High German frisc, modern German frisch, Dutch fris etc.)
---