regale

re·gale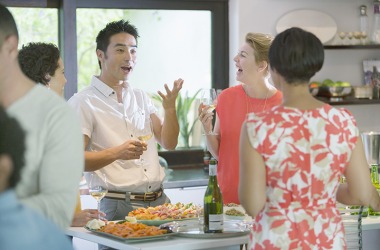 Jacob loved to regale his friends with his hilarious childhood adventures.
verb
Regale is to delight or amuse someone through talk, stories or a generous amount of food or drink.

When you get everyone to start laughing hysterically at your stories, this is an example of a situation where you regale people with your stories.
---
regale
transitive verb
-·galed′

,

-·gal′ing
to entertain by providing a splendid feast
to delight with something pleasing or amusing
Origin of regale
French
régaler
from the noun
a feast
a choice food; delicacy
refreshment
Origin of regale
Fr
régal,
earlier
régale
<
ré-
(see re-) + OFr
gale,
joy, pleasure (see gallant)
---
regale
verb
re·galed, re·gal·ing, re·gales
verb
transitive
To provide with great enjoyment; entertain. See Synonyms at amuse.
To entertain sumptuously with food and drink; provide a feast for.
verb
intransitive
To feast.
noun
A great feast.
A choice food; a delicacy.
Refreshment.
Origin of regale
French
régaler
from
Old French
regal
feast
from
gale
(
influenced by
se rigoler
to amuse oneself
)
from
galer
to make merry
Related Forms:
---
regale

---