renovate

ren·o·vate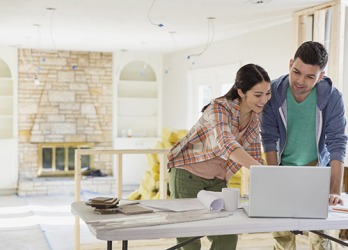 Jada had grand ideas as to how she wanted to renovate their new house, but unfortunately she and her husband had a modest budget.
verb
Renovate is to restore something to a newer or better state.

When you buy a falling-down old house and install new wiring, plumbing and fix all the problems so the house is like new, this is an example of when you renovate the house.
---
renovate
transitive verb
-·vat·ed

,

-·vat·ing
to make fresh or sound again, as though new; clean up, replace worn and broken parts in, repair, etc.
to refresh; revive
Origin of renovate
from Classical Latin
renovatus,
past participle of
renovare,
to renew from
re-,
again +
novare,
to make new from
novus,
new
---
renovate
transitive verb
ren·o·vat·ed, ren·o·vat·ing, ren·o·vates
To return to a condition of newness, as by repairing or remodeling.
To impart new vigor to; revive.
Origin of renovate
Latin
renovāre
renovāt-
re-
re-
novāre
to make new
(
from
novus
new
; see
newo-
in Indo-European roots.)
Related Forms:
---
renovate

---