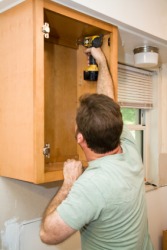 Cabinets being refurbished.
verb
To refurbish is to renovate something or fix something up.

When you paint old kitchen cabinets to make them prettier, this is an example of a time when you refurbish the cabinets.
---
refurbish
to brighten, freshen, or polish up again; renovate
Origin of refurbish
re- + furbish
---
refurbish
transitive verb
re·fur·bished, re·fur·bish·ing, re·fur·bish·es
To make clean, bright, or fresh again; renovate.
Related Forms:
---
refurbish

Verb
(third-person singular simple present refurbishes, present participle refurbishing, simple past and past participle refurbished)
To rebuild or replenish with all new material; to restore to original (better) working order and appearance.
Origin
1605, from re- +"Ž furbish, from Middle English furbishen, from Old French furbir (stem furbiss-, "to clean, polish"), from Frankish *furbjan ("to clean, polish"), from Proto-Germanic *furbijanÄ… ("to clean"), from Proto-Indo-European *prep- ("to appear"). Cognate with Old High German furben ("to clean, cleanse, purge, sweep").
---