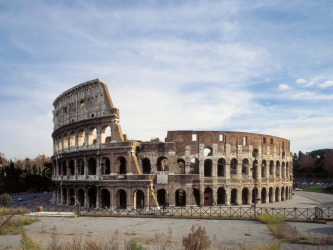 The Colosseum is an example of a ruin.
noun
Ruin is the fallen or destroyed remains of something.

An example of a ruin is what remains of the Colosseum in Rome.
verb
Ruin is defined as to break or destroy something.

An example of to ruin is breaking a water glass.
---
ruin
Archaic

a falling down, as of a building, wall, etc.
[pl.] the remains of a fallen building, city, etc., or of something devastated, decayed, etc.

a destroyed or dilapidated building, town, etc.
a person regarded as being physically, mentally, or morally a wreck of what he or she was

the state of being destroyed, decayed, dilapidated, etc.
downfall, destruction, devastation, etc.; specif.,

complete loss of means, solvency, position, etc.
moral downfall

any cause of a person's downfall, destruction, etc.: gambling was his ruin
Origin of ruin
Middle English
ruine
from Old French from Classical Latin
ruina
from
ruere,
to fall, hurl to the ground from Indo-European an unverified form
ereu-
from base an unverified form
er-,
to set in motion, erect from source run, rise
to bring or reduce to ruin; specif.,
to destroy, spoil, or damage irreparably
to impoverish or make bankrupt
to deflower or seduce (a woman) and, often, specif., thereby render her unmarriageable, disgraced, etc.
Archaic
to go or come to ruin
---
ruin
noun
often ruins

a. The state of being physically destroyed, collapsed, or decayed: The castle fell into ruin.

b. The state of being extensively harmed or damaged: Our vacation plans are in ruins.

c. Poverty of bankruptcy: Their decision brought the bank to ruin.

a. often ruins A destroyed, collapsed, or decayed building or other physical entity: the ruins of the old mill.

b. One that has been extensively damaged or harmed: He is a ruin of his former self.

A cause of destruction or irreparable harm or loss: Gambling will be his ruin.
transitive verb
ru·ined, ru·in·ing, ru·ins
To cause (a building, for example) to be in a destroyed, collapsed, or decayed state.
To harm or damage irreparably: A bad diet ruined his health.
To reduce to poverty or bankruptcy: Bad loans ruined the banker.
Origin of ruin
Middle English
ruine
from
Old French
from
Latin
ruīna
from
ruere
to rush, collapse
Related Forms:
---
ruin

Noun
(plural ruins)
(countable, sometimes in the plural) The remains of a destroyed or dilapidated construction, such as a house or castle.
(uncountable) The state of being a ruin, destroyed or decayed.

The monastery has fallen into ruin.

(uncountable) Something that leads to serious trouble or destruction.

Gambling has been the ruin of many.

A change that destroys or defeats something; destruction; overthrow.

the ruin of a ship or an army; the ruin of a constitution or a government; the ruin of health or hopes
Verb
(third-person singular simple present ruins, present participle ruining, simple past and past participle ruined)
to cause the ruin of.
To destroy or make something no longer usable.

He ruined his new white slacks by accidentally spilling oil on them.
Origin
From Middle English ruine, from Old French ruine, from Latin ruÄ«na ("overthrow, ruin"), from ruō ("I fall down, tumble, sink in ruin, rush").
---