plague

plague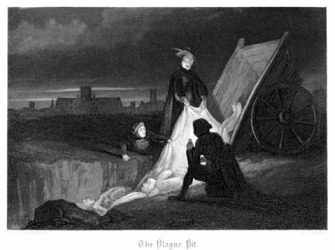 Mass burial during the plague in London.
noun
The definition of a plague is a widespread disease that is deadly.

An example of plague is the yellow feaver outbreak in New Orleans in 1852.
---
plague
anything that afflicts or troubles; calamity; scourge
any contagious epidemic disease that is deadly; esp., bubonic plague

Informal

a nuisance; annoyance

Bible

any of various calamities sent down as divine punishment: Ex. 9:14, Num. 16:46
Origin of plague
Middle English
plage
from Middle French from Classical Latin
plaga,
a blow, misfortune, in LL(Ec), plague from Classical Greek
pl?g?, plaga
from Indo-European an unverified form
plaga,
a blow from base an unverified form
plag-,
to strike from source flaw
transitive verb
plagued

,

plagu′ing
to afflict with a plague
to vex; harass; trouble; torment
---
plague
noun
a. A highly infectious, usually fatal, epidemic disease; a pestilence.

b. A virulent, infectious disease that is caused by the bacterium Yersinia pestis (syn. Pasteurella pestis ) and is transmitted primarily by the bite of fleas from an infected rodent, especially a rat. In humans it occurs in bubonic form, marked by lymph node enlargement, and in pneumonic form, marked by infection of the lungs, and can progress to septicemia.

a. A widespread affliction or calamity seen as divine retribution.

b. An influx or large number of destructive or unwanted things, especially animals: "The vines flourished, the only problem being a plague of jackrabbits" ( Paul Lukacs )

c. Something that causes persistent hardship, trouble, or annoyance: "The plague of every funnyman's success is that deep down, almost everyone thinks they know forty guys funnier" ( Ross Vachon )
transitive verb
plagued, plagu·ing, plagues
To pester or annoy persistently or incessantly. See Synonyms at harass.

a. To cause suffering or hardship for: "Runaway inflation further plagued the wage- or salary-earner" ( Edwin O. Reischauer )

b. To be a widespread or continuous problem or defect in: Confusing jargon plagues the entire subject.
Origin of plague
Middle English
plage
blow, calamity, plague
from
Late Latin
plāga
from
Latin
blow, wound
; see
plāk-
2
in Indo-European roots.
V.,
Middle English
plaghen
from
Middle Dutch
from
plaghe
plague
from
Late Latin
plāga
Related Forms:
---
plague

Verb
(third-person singular simple present plagues, present participle plaguing, simple past and past participle plagued)
To harass, pester or annoy someone persistently or incessantly.

Wikis are often plagued by vandalism

To afflict with a disease or other calamity.

Natural catastrophies plagued the colonists till they abandoned the pestilent marshland
Origin
From Middle English plage, from Old French plage, from Late Latin plāga ("blow, wound"), from plangō ("to strike"). Cognate with Middle Dutch plāghe (> Dutch plaag), plāghen (> Dutch plagen), Middle Low German plāge, pflāge, vlāge, Middle High German plāge (> German Plage), plāgen (> German plagen), Swedish plÃ¥ga, French plaie.
---