hound

hound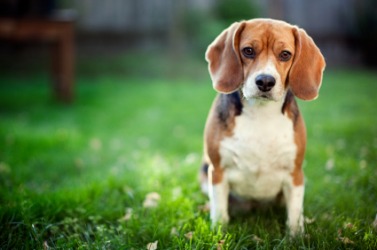 A cute Beagle hound puppy.
noun
The definition of a hound is a dog of a hunting dog breed, particularly ones with droopy ears, a strong sense of smell and a deep bark, or is someone who is very interested in a specific topic.

An example of a hound is a bloodhound.
An example of a hound is a person who loves news; a news hound.
verb
Hound is defined as to hunt, chase or urge on.

An example of hound is for a mother to constantly tell her son to do his homework.
---
hound
any of several breeds of hunting dog that find game either by scenting and tracking, as the beagle, bloodhound, and foxhound, or by sighting followed by swift pursuit, as the borzoi, deerhound, and greyhound
any dog, especially a member of one of the hunting breeds, with drooping ears, a deep-throated bark, and a keen sense of smell

a contemptible person

Slang

a devotee, fan, or collector: an autograph hound
Origin of hound
Middle English from Old English
hund
, a dog (generic term), akin to German
hund
from Indo-European base an unverified form
kwon-
, dog from source cynic, Classical Greek
ky?n
, Classical Latin
canis
: houndsense shows specialization, accompanied by generalization of Old English
docga
: see dog
to hunt or chase with or as with hounds; chase or follow continually; nag: to hound a debtor
to urge on; incite as to pursuit
follow the hounds
to hunt a fox, etc. on horseback with hounds
either of two projections at the masthead of a sailing vessel for supporting the trestletrees and the upper parts of the lower rigging
a horizontal bar in the running gear of a wagon, cart, etc., for strengthening the connection of various parts
Origin of hound
from Middle English
houn
from Old Norse
h?nn
, knob ( from Indo-European base an unverified form
?eu-
, to swell, arch from source Classical Latin
cavus
, hollow), with unhistoric
-d
, influenced, influence by hound
---
hound
noun
a. A domestic dog of any of various breeds commonly used for hunting, characteristically having drooping ears, a short coat, and a deep resonant voice.

b. A dog.

A contemptible person; a scoundrel.

a. One who eagerly pursues something: a gossip hound.

b. A devotee or an enthusiast: a coffee hound.
transitive verb
hound·ed, hound·ing, hounds
To pursue relentlessly and tenaciously: The suspect was hounded by the police for weeks.

a.

To make repeated demands of or subject to persistent criticism:

Her parents hounded her until she agreed to look for a better job.

See Synonyms at

harass

.

b. To pressure or force from a place or situation: accusations that hounded him out of office.
Origin of hound
Middle English
from
Old English
hund
; see
kwon-
in Indo-European roots.
Related Forms:
---
hound

Noun
(plural hounds)
A dog, particularly a breed with a good sense of smell developed for hunting other animals. (hunt hound, hunting hound, hunting dog, hunter)
(by extension) Someone who seeks something.
(by extension) A male who constantly seeks the company of receptive females.
A despicable person.
A houndfish.
(nautical, in the plural) Projections at the masthead, serving as a support for the trestletrees and top to rest on.
A side bar used to strengthen portions of the running gear of a vehicle.
In more recent times, hound has been replaced by dog but the sense remains the same.
Verb
(third-person singular simple present hounds, present participle hounding, simple past and past participle hounded)
To persistently harass.

He hounded me for weeks, but I was simply unable to pay back his loan.
Origin
From Middle English honde, from Old English hund, from Proto-Germanic *hundaz (confer West Frisian hûn, Dutch hond, German Hund, Danish hund, Swedish hund), from pre-Germanic *ḱu̯n̥-tós, *ḱwn̥tós (confer Latvian sùnt-ene ("big dog")), englargement of Proto-Indo-European *ḱwṓ ("dog") (cf. Welsh cwn ("dogs"), Tocharian AB ku, Lithuanian šuõ), Armenian շուն (šun).
---