noun
The definition of a badger is a small, furry mammal.

An example of a badger is a North American animal that has white markings on its face and long claws on its front feet.
verb
To badger is to annoy, pester or get on someone's nerves.

An example of badger is nag someone to make their bed repeatedly.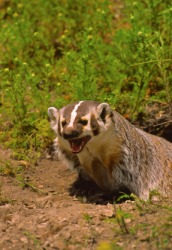 A badger coming out of its den.
---
Badger definition by Webster's New World
noun
pl. badgers or badger
any of certain mammals of a family (Mustelidae) of burrowing carnivores (esp. genera Taxidea and Meles) of North America, Europe, and Asia, with a broad back, thick, short legs, and long claws on the forefeet
the fur of a badger

Austral.

wombat
bandicoot

☆

Informal

a person born or living in Wisconsin, called the
Origin: 16th-c. term for earlier brock ; from bageard ; from uncertain or unknown; perhaps Middle English bage, badge plush -ard, -ard, in allusion to white spot on face
transitive verb
to torment as if baiting a badger; nag
Webster's New World College Dictionary Copyright © 2010 by Wiley Publishing, Inc., Cleveland, Ohio. Used by arrangement with John Wiley & Sons, Inc.
---
Badger definition by American Heritage Dictionary
noun
Any of several carnivorous burrowing mammals of the family Mustelidae, such as Meles meles of Eurasia or Taxidea taxus of North America, having short legs, long claws on the front feet, and a heavy grizzled coat.
The fur or hair of this mammal.
Any of several similar mammals, such as the ratel.
transitive verb
badg·ered
,
badg·er·ing
,
badg·ers
To harass or pester persistently. See Synonyms at
harass
.
Origin: Perhaps from badge.
Word History:
Our name for the Eurasian species of this mammal, which is noted for defending its burrow like a knight of old, may come from the badger's knightly emblem. The creature's white head with a broad black stripe on each side of the snout may have brought to mind a badge, hence
badger.
Good evidence supporting this theory is that an earlier name for the animal was
bauson,
which comes from the Old French word
baucenc,
usually referring to a white patch on a horse and also meaning "badger."
Bauson
is first recorded by 1375,
badger
in 1523.
Badger
Variant of badger
noun
pl. badgers or badger
any of certain mammals of a family (Mustelidae) of burrowing carnivores (esp. genera Taxidea and Meles) of North America, Europe, and Asia, with a broad back, thick, short legs, and long claws on the forefeet
the fur of a badger

Austral.

wombat
bandicoot

☆

Informal

a person born or living in Wisconsin, called the
Origin: 16th-c. term for earlier brock ; from bageard ; from uncertain or unknown; perhaps Middle English bage, badge plush -ard, -ard, in allusion to white spot on face
transitive verb
to torment as if baiting a badger; nag