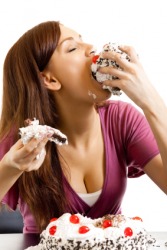 This woman is being a glutton.
noun
The definition of a glutton is someone who is very eager for something, or who cannot get enough of something, or who eats an excessive amount.

An example of a glutton is a person who keeps going back for second, third and fourth helpings and who eats way more than his share.
---
glutton
a person who greedily eats too much
a person with a great capacity for something: a glutton for work

Origin of glutton

transl. of Ger vielfrass, lit., great devourer wolverine
Origin of glutton
Middle English
glotoun
from Old French
gloton
from Classical Latin
gluto, glutto
from
glutire, gluttire
, to devour, akin to
gula
, gullet
---
glutton
noun
A person who eats or consumes immoderate amounts of food and drink.
A person with an inordinate capacity to receive or withstand something: a glutton for punishment.
See wolverine.
Origin of glutton
Middle English
glotoun
from
Old French
gloton
from
Latin
gluttō
gluttōn-
Sense 3, ultimately (perhaps via
French
glouton
and
German
Vielfrass
glutton, wolverine)
from translation of
Middle Low German
vilvraz
glutton, wolverine
vil
much
vraz
eater
(
the word
vilvraz
glutton
) (
perhaps being applied to the wolverine partly in reference to its reputation for voraciousness and partly as a folk-etymological loan translation of
Old Swedish
filfras
wolverine
) (
fil
hill in the wilderness
) (
fras
tomcat
)
Related Forms:
---
glutton

---