adjective
The definition of gluttonous is doing something in an excessive way.

An example of someone gluttonous is a teen-aged boy who eats constantly.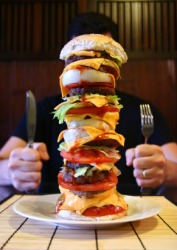 Gluttonous behavior.
---
gluttonous definition by Webster's New World
adjective
of or like a person who is a glutton
Origin: Middle English glotonous ; from Old French glotonos: see glutton
Webster's New World College Dictionary Copyright © 2010 by Wiley Publishing, Inc., Cleveland, Ohio. Used by arrangement with John Wiley & Sons, Inc.
---
gluttonous definition by American Heritage Dictionary
adjective
Given to or marked by gluttony.
Indulging in something, such as an activity, to excess; voracious. See Synonyms at voracious.
Related Forms: