adjective
The definition of carnivorous is an animal that eats the meat of other animals, or a plant that traps and digests insects or other small animals.

A person who eats meat is an example of someone who would be described as carnivorous.
A Venus Fly Trap is an example of a carnivorous plant.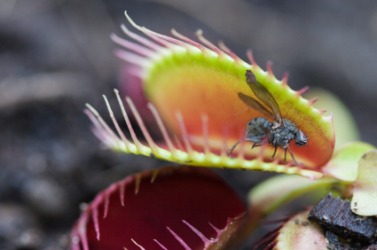 The Venus Fly Trap is a carnivorous plant.
---
carnivorous definition by Webster's New World
adjective
flesh-eating
insect-eating, as certain plants

of the carnivores
Origin: Classical Latin carnivorus ; from caro, flesh (see harvest) plush vorare, to devour (see voracious)
Webster's New World College Dictionary Copyright © 2010 by Wiley Publishing, Inc., Cleveland, Ohio. Used by arrangement with John Wiley & Sons, Inc.
---
carnivorous definition by American Heritage Dictionary
adjective
Of or relating to carnivores.
Flesh-eating or predatory: a carnivorous bird.
Characterized by destructive or predatory behavior or instincts: "a city becoming increasingly carnivorous as it becomes decreasingly serious about governance" (George F. Will).
Botany Capable of trapping insects or other small organisms and absorbing nutrients from them; insectivorous.
Origin: From Latin carnivorus : carō, carn-, flesh; see sker-1 in Indo-European roots + -vorus, -vorous.
Related Forms: