vegetarian
veg·e·tar·i·an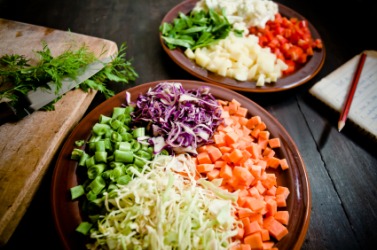 A vegetarian eats no meat.
adjective
The definition of vegetarian is something that has no meat or that is related to the absence of meat.

Lasagna with only veggies and no meat is an example of vegetarian lasagna.
noun
A vegetarian is someone who eats exclusively fruits, vegetables, grains and nuts and no meat or, in some cases, no animal products at all.

A person who believes eating animals is cruel and who thus eats no meat is an example of a vegetarian.
---
vegetarian
a person who eats no meat, and sometimes no animal products (as milk or eggs); esp., one who advocates a diet of only vegetables, fruits, grains, and nuts for reasons of health or because of principles opposing the killing of animals
Origin of vegetarian
veget(able) + -arian
of vegetarians or vegetarianism
consisting only of vegetables, fruits, etc.
---
vegetarian
noun
One who practices vegetarianism.
adjective
Of or relating to vegetarianism or vegetarians.
Consisting primarily or wholly of vegetables or plants: a vegetarian diet.
Origin of vegetarian
veget(able)
-arian
---
vegetarian

Noun
(plural vegetarians)
An animal that eats only plants; a herbivore.
Adjective
(comparative more vegetarian, superlative most vegetarian)
Of or relating to the type of diet eaten by vegetarians (in all senses).
Of a product normally made with meat, having non-meat substitutes in place of meat.
(of a person) That does not eat meat.

I have a vegetarian brother
Origin
vegetable +"Ž -arian; popularized following 1847 foundation of British Vegetarian Society. (Alternatively, it may derive from vegetus +"Ž -arian.)
---